Prem Rawat recently capped a series of events in Italy by accepting honorary citizenships in the city of Calatfimi-Segesta and the Sicilian capital, Palermo, where he urged audiences to find peace in their lives.
On June 28, Mr. Rawat addressed approximately 2,000 people at the Segesta Amphitheatre, an ancient arena carved into the slopes of Monte Barbaro. He spoke about the importance of peace, and was awarded the honorary citizenship as part of the Segesta Peace Celebration, which also featured musical performances and speeches by officials such as Segesta Mayor Vito Sciortino.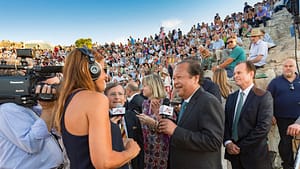 The event was broadcast live across Sicily via radio and featured an onstage interview with Mr. Rawat by Salvatore Ficarra, a renowned Italian comedian and actor. Asked by Mr. Ficarra how peace could be possible in a troubled world filled with so many weapons and wars, Prem pointed to the bright moon that was shining over the beautiful outdoor venue. "You see that light way up in the sky? That's the moon. Human beings, not too long ago, were faced with the challenge, 'Let's go there,'" he said. "A lot of them said 'No, it cannot be done.' And some said, 'Yes, it can be done.' People like you and me went there and landed there. It was because of people who said 'it can be done,' not because of the people who said 'it cannot be done.' I am here behind this podium saying it can be done. We have to choose."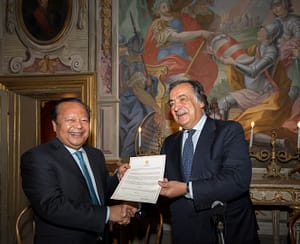 The next day at a special ceremony at the Villa Niscemi Town Hall, Palermo Mayor Leoluca Orlando recognized Mr. Rawat as an honorary citizen and an "Ambassador of Peace," a title given to him as part of the Bruxelles Declaration, which was established at the European Parliament in 2011 with the goal of promoting peace, dignity, freedom, and equality. Joined at the citizenship ceremony by about 50 other dignitaries, Mayor Orlando thanked him for his ongoing advocacy work in Sicily and beyond. "It's an honor for City Council to confer this honor to a man who has fought and engaged with courage and determination in the pursuit of peace and the assertion of rights," he said.
In May, Prem Rawat spoke at six events on the Italian island of Sicily, presenting a message of peace to diverse audiences, from presidents and physicians to patients and prisoners. He delivered keynote addresses to thousands of people at the National Convention of the Blood Donors Association, the Medicine for Peace conference, and a "Commitment to Peace" event in Mazara del Vallo, a city that designated him an honorary citizen in 2011. He also visited a prison and an eating disorder treatment center that have been offering The Prem Rawat Foundation's (TPRF) Peace Education Program, a course that aims to help people discover their own inner resources, such as inner strength and choice.
Founded over 2,700 years ago, Palermo is a melting pot of cultures. Due to its strategic location on the Mediterranean Sea, the city has been called "the most conquered city in the world" and has historically been the site of violent political conflicts. In modern times, leaders have tried to cultivate a sense of harmony among residents and neighbors—an effort that Mayor Orlando said is complemented by the work of Prem Rawat and TPRF, the international humanitarian charity he founded.
"Peace is necessary for the success of welfare and is central to the dignity of a person," said Mr. Orlando. "Palermo is a multicultural city of peace."
Prem said he accepted the honorary citizenship as a challenge to redouble his efforts to cultivate a sense of peace among individuals around the globe.
"I take this challenge that I have been presented with, and I hope that my efforts will make a positive difference, not only in Sicily, not only in Italy, but for Europe and the world," he said. "I know that wherever I go and talk about peace, people are usually very skeptical. But we are making a difference. A forest is not started by trees. It's started by seeds. We're sowing the seeds."