An amazing place, a beautiful day, great company … and look at these photographs! Ana Dalia took them during a recent gathering of friends. Wouldn't you love to join them at this dining table for lunch? And especially so considering the location. Ana and her friends reside in Tarifa, Cádiz—a picturesque Mediterranean port town on the Southwestern tip of Spain.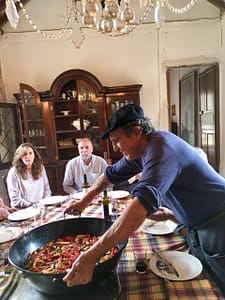 In a cozy home, on a bright sunny day, a few dozen people came together for lunch and friendship—and to support Prem Rawat's efforts to help people across the world live with dignity, peace, and prosperity. Together they held a raffle around the dining table to raise funds for The Prem Rawat Foundation. Ana writes about the gathering:
Everyone loved the idea of getting together. Most of us were already familiar with Prem Rawat and share a fondness for his message of peace. But we don't usually see each other. It was so fun to connect. Some of us had never met until our lunch.
Invitations were emailed to about 80 people. In the end, 22 people came. We did it in the "Txoko" style, a local Basque tradition of coming together to prepare a rich and affordable meal, made with love. There was a beautiful feeling in the home throughout the evening.
The raffle was very spontaneous. We did not try to follow any particular protocol to raise funds. But as it was, we raised about USD $180—not very much, but it is better than nothing! We sold raffle tickets and a ceramist donated one of his works. Second prize was a framed picture of Prem. Both prizes went to the girls who attended.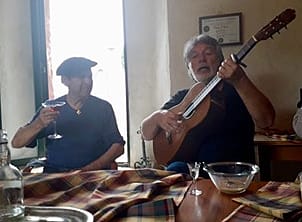 Our main entrée was the typical Spanish dish: rice paella. It was made with vegetables from our garden as well as local seafood, like prawns and mussels, along with meats from the mountains. Food has been used for ages to help people get to know each other, and it worked well on this occasion. There was even a couple who were having troubles, but as a result of the food, they got together and joined our group of friends. All were happy and eager to repeat the get-together someday. It seems that we should meet from time to time, because we are always rushing around so much and rarely leave time to contact each other.
The Prem Rawat Foundation relies on grassroots efforts like these to fulfill its mission of addressing the fundamental human needs of food, water, and peace. Learn more about organizing an independent fundraising event here or contact Bev Johnson with your ideas or questions at [email protected].