Golf Tournament in Chile Raises Funds for PEP Programs
In Santiago, Chile, a gala event that included a golf tournament and formal dinner not only raised funds to set up Peace Education Programs locally, but also introduced Prem Rawat's message of peace to many guests for the first time.
In consultation with a global financial services firm, organizers learned that the best way to proceed would be to set up a charitable foundation that could benefit from corporate sponsorship under Chilean tax law. Fulfilling the legal requirements took about a year and a half, but last June the Fundación Humanidad Chile was set up, with the slogan "Opening the Eyes of the Heart." After that, everything began to come together very quickly.
"With the Foundation ready," said President Ted Urquhart, "work started in earnest in mid-August—designing the logo and slogan,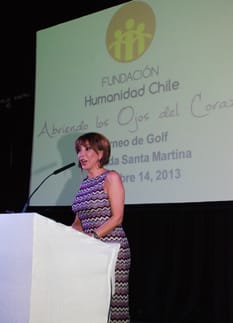 preparing a web page, printing invitations, lining up sponsors, securing the golf course and venue, and inviting golfers and others to attend the dinner event."
"An important donation was the offer to use the Hacienda Santa Martina Golf Course by its president, Ricardo Aguad Dagach," said Monica Ureta, one of the event's principal organizers.
About 50 golfers participated in the tournament, and more than 300 guests attended the dinner event. "The people who came included many famous personalities as well as leaders of industry," Ureta said. "A great effort was made to have a professional event of the highest quality. Nobody was disappointed."
The evening, hosted by well-known Chilean television personality Cristina Tocco, began with a cocktail hour and included a live jazz band (donated), a white-tablecloth dinner, a theatrical presentation (donated), a raffle, and the presentation of the golf tournament prizes. Sponsor BMW had a display featuring two top-of-the-line cars and three motorcycles. Another sponsor, Vertical Helicopters, landed a helicopter on the lawn.
"Financially, the revenues met our expectations, given that Chile is not accustomed to charity events."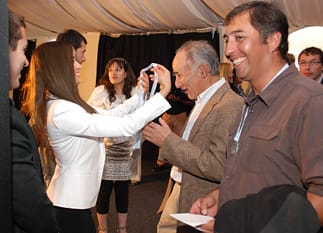 Organizers also fielded several serious requests for Peace Education Programs, including one from a government-sponsored drug rehabilitation program.
"The Foundation and the Peace Education Program are indeed, in some circles, the talk of the town," Urquhart said. "Our job now is to deliver on the promise by implementing various Peace Education Program courses.
"Our next event will be planned much further in advance, with a background of a successful first event making it much easier to attract corporate sponsors with more funds to dedicate to this initiative. In addition, various Peace Education Program initiatives will be underway, giving us much more to show and talk about."