The Indian Ministry of Health and Welfare defines nursing as "a profession in which the service to humanity is very strong" and as a "practice ingrained with the value of caring." It's no wonder then that the Peace Education Program (PEP) is increasingly being welcomed into the curriculum at nursing schools in the country.
As one of The Prem Rawat Foundation's (TPRF) signature initiatives, the educational program aims to help participants discover their own inner resources – innate tools for living such as inner strength, choice, and hope. The esteemed S.E.A. College of Nursing in Bangalore, India will offer the program starting April 15 on the premise that cultivating a sense of personal peace is essential to an individual's health and wellbeing.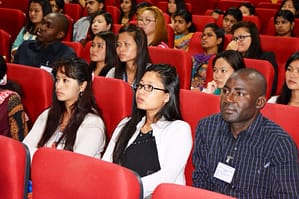 The college is following in the footsteps of the Vydehi Institute of Nursing Sciences and Research Centre, another Bangalore nursing school that integrated the PEP into its curriculum late last year. Since then, more than 120 staff and students have completed the series, earning praise from Vydehi's principal.
At S.E.A. College, more than 60 students and faculty members have enrolled in the spring semester PEP. Facilitators introduced the program at the school this February during a workshop on "Challenging Trends in Nursing." School administrators invited TPRF founder Prem Rawat to headline the event but he was not able to attend in person. Instead, organizers played a video of one of his international addresses to the room of more than 1,000 attendees. During the
presentation, a College Trustee noted that Mr. Rawat's "humanitarian efforts are highly appreciated" and that the school would invite him to deliver a live address this summer.
In honor of Mr. Rawat's humanitarian work, the school also prepared an award, which was accepted on his behalf by PEP facilitators.