Parolees Enroll in Peace Education Classes in Oxnard, CA
Chantal Berclaz and Peter King are two of the volunteers facilitating the PEP curriculum now available to parolees in Oxnard, California. Upon their release from prison, parolees are required to attend a resource meeting where presentations are made by several groups for the purpose of providing guidance and encouragement to help with the transition back into society. Chantal and Peter wrote this informative update about the efforts being made to provide peace education classes to former inmates.
Since last April, Peter King, Bill Sparks and I have had the privilege of presenting a PEP video, "Peace on the Inside," at the bi-monthly meeting for parolees in Oxnard. After watching the DVD presentation, many parolees approach our table for further information, and several sign up to attend the PEP sessions, which are now held in Oxnard every week.
The video had a noticeable impact on the resource people present in the room as well. Some of them inquired about the possibility of offering the program to other communities. They commented in particular about how focused and moved the parolees appeared as they watched the DVD. This kind of focus is rare, as most parolees become disoriented from their efforts to engage in a world that has changed during the 5 or 10 years they have spent in jail. It is difficult process for each of these individuals to figure out how they are going to make it "on the outside."
Only a few people made it to the first session of the program in Oxnard when we began it in August, 2012. But even those first classes were beautiful and moving. We felt confident that the class would grow as the parolees learned more about their inner resources. Session after session, we have been witnessing a transformation in attendees.
We have been particularly moved by one of the parolees in the Oxnard program. After watching each DVD, Jim thinks about it, takes notes, and then shares what he is feeling. One day he asked, "Can I continue to come after I have finished all the sessions? I want to share with other parolees what I have enjoyed discovering and experiencing."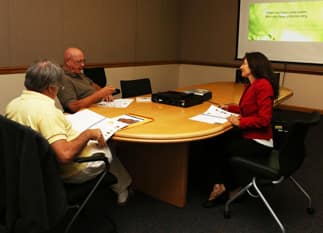 Jim has already begun inviting people to attend the sessions. "This morning," he said, "I was overwhelmingly happy, for no reason." With great kindness in his eyes, he continued, "It is hard to see the greed and the lack of care of this world. I want to help, maybe by smiling at someone, or whatever I can do to make the person feel better."
It is extraordinary to see hope, love, joy, gratefulness, and kindness surfacing no matter what has happened in the past, what the current circumstances are like, or what the future may look like. In a world where hope is so thin and daily life so challenging, I am moved to see PEP touching the human side—that heart that has never lost its beauty or it's innocence, even though it may have been buried for years or decades.