Tim Weinhold introduced the Peace Education Program (PEP) to the Adult Community Education system of Minneapolis. He has worked professionally as a musician and massage therapist and is semi-retired. Tim is currently facilitating PEP workshops in two Minneapolis public schools.
Over the past three years, I have been interested in presenting PEP in my area after hearing stories of its success from a friend who has been facilitating it at a county jail in Austin, Minnesota.
While I was working at a friend's chiropractic business, she suggested approaching the city's Adult Community Education system. The administrators were very open to the concept of peace education, so I sent them a description of the PEP course and the web link. The two people who assess new courses told me, "This world needs peace!" Both were grateful for the PEP course and glad that someone would take the initiative to bring it to the community.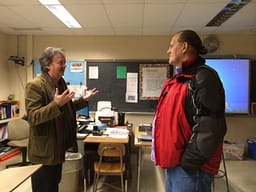 The first venue was Roosevelt High School. I received the PEP kit and my chiropractor friend was so impressed with it that she offered to help me facilitate the course. Many of the participants at Roosevelt High were deeply moved listening to videos of Prem emphasizing that the peace we are looking for is within us, and that experiencing it is a matter of choice. We took time after each segment to explore his talks. "He reminds me of things I already know," said one participant named Kay. "It appears he lives what he is talking about."
"This feels so right," Pam said.
Another commented, "I have never heard anyone like him before."
It is a moving experience to witness people whose lives are affected by the PEP. Facilitating the course, I gain as much as any participant. My 26-year-old daughter, Mackenzie, also attends and helps me set up the classes. In all, 54 people have come to some of the classes, and 20 have been regular attendees.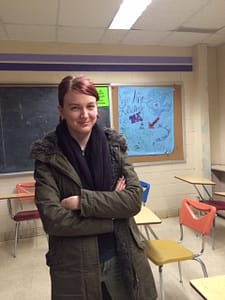 I hope to bring the PEP to many more venues in Minneapolis. With the help of participants now excited to do the same, it would be possible. A few months ago I met with a potential PEP facilitator who said, "It has been determined that 1,000 people sparked the shift that launched the Renaissance. They came together organically and a new level of consciousness emerged in humanity and society. We don't need to reach everyone at once; a significant minority can be the catalyst for a shift—the exponential tipping point."
I think the same shift can happen with peace. I am learning to go where the momentum is and let it grow naturally. I am currently facilitating a third PEP course at Roosevelt High for the spring session and one at a new venue, Pratt Elementary, the first school built in Minneapolis, in 1898.
Witnessing a person being introduced to the possibility of peace is precious to me. Attendees are often so thankful. The comments participants make enriches my own understanding.
In my own yearning for peace, I have often felt like a grizzly bear looking for the honey. It is incredible to meet people who have that same passion. Volunteering as a PEP facilitator is my way of giving back and experiencing even more peace. I never imagined it would be this sweet.