The Food for People (FFP) program continues to evolve to meet local needs as they change during the COVID-19 pandemic. In Nepal, staff and volunteers recently sewed and distributed 2,500 masks for children and school teachers who live near the kitchen facility in Dhading. The initiative will help prevent the spread of the virus in the rugged area, which is far removed from other sources of masks, modern medical supplies, and services.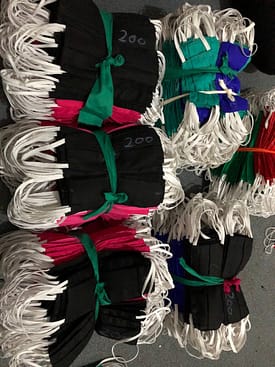 Local leaders praised the initiative for helping keep their communities safe and healthy. The Prem Rawat Foundation supported the effort in partnership with The Prem Sagar Foundation and the local community. 
Regular Food for People meal services remain paused in the area, in keeping with government regulations to help stem the spread of COVID-19. Schools are closed, but function as pickup points for students to receive their free masks.
The Food for People program has provided more than 3 million nutritious meals and clean water to children in disadvantaged areas of Ghana, India, and Nepal. The program also supports local communities with emergency relief, agricultural training, computer labs, and other services as needed. 
FFP is just one of many initiatives that The Prem Rawat Foundation takes across the globe to advance dignity, peace, and prosperity by addressing fundamental human needs. You can stay up to date on all of TPRF's efforts to help people cope during the pandemic here.