Swiss-based volunteer group Sponsors for Peace resulted from a simple question: "What if corporate businesses could do more to promote peace in this world?" This was the possibility that Hans, a businessman and supporter of TPRF, put to the Top 500 CEOs from Central Switzerland. Their response was so encouraging that Hans decided to found Sponsors for Peace in order to provide a corporate responsibility platform that could support peace promotion activities.

Earlier this year, Hans attended a golf charity event in Frankfurt, Germany that raised funds for The Prem Rawat Foundation's Food for People program in Nepal, and he was inspired to organize a fundraiser in his own country. Impressed by Daya Rawat's beautiful singing at the German golfing event, he invited her to Switzerland to perform at a Peace Charity Concert planned by Sponsors for Peace, and she kindly accepted.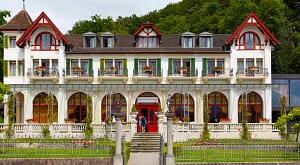 The concert was held in July 2014 at the impressive Seeburg Hotel, which is situated on the banks of Lake Lucerne and known for its spectacular lakeside vistas. The highlight of the musical program was Daya's performance of some of her original songs. Other artists included "Groove Cocktail" with Jillene Luce, who performs on the Cafe del Mar label; and singer June, one of the entrants for "The Voice of Switzerland 2014" talent show.
Videos showcasing the Foundation's work highlighted TPRF's humanitarian efforts. In all, 18 companies generously sponsored the concert, with over 80 people attending. A check for CHF 10,000 (US$11,000) was presented to TPRF's President, Daya Rawat after the concert. The funds are designated to support the Food for People program in Nepal.