PeacePlay, a voluntary group promoting Prem Rawat's message through performance arts, pulled out the stops for their second Giving Peace a Chance gig in Liverpool, UK, in July. This time they hired the prestigious Parr Street Studio 2 and put on a buffet for their guests, as well as a concert. Local musicians were more than delighted to participate in the concert, offering their services completely free of charge.
An enthusiastic crowd of 50-strong watched the Mersey Belles open the show with their spirited electronic ukulele rendition of vintage classics that had families jigging with joy. The musical acts were interspersed with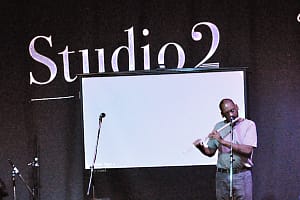 "peace quotes" and videos showcasing TPRF's Food for People program and Stories for Peace. Local musicians included flautist Buster Swaby, Irish folk singer Moon, and Stan Ambrose giving a stirring rendition of WWI ditties. The event closed with a storytelling performance of the Buddha Bird, a poignant folktale of how peaceful collaboration can save the day.
In addition to raising awareness of the work of the Foundation, £50 was raised in donations for the Food for People program.
Said organiser Phil, "We're delighted at the local community's response and interest in PeacePlay events. We believe that the performing arts are a very successful way to raise awareness about personal peace." PeacePlay is planning their next and even bigger event to celebrate International Peace Day on September 21."