Liam Ryan runs an architectural practice in the midlands in Ireland, is looking forward to the launch of a volume of his poetry in Spring 2015 and has been facilitating PEP in the high security Portlaoise Prison, near where he lives, since the beginning of 2014. His golf handicap has suffered!
The heavy metal door of the prison slides shut with a dull thud. And I am free!! Free from the Indian summer dissolving into murky winter; free from ridiculously slow traffic lights; free from the economic collapse and the incessant bleeping of the smartphone. Shutting out, freeing me, letting me escape. We are inside; the door thumps, shudders shut.
It is another week of the Peace Education Program. This is week 10, the last in the current series of workshops. My friend John is with me as we enter Portlaoise Prison to facilitate the workshop.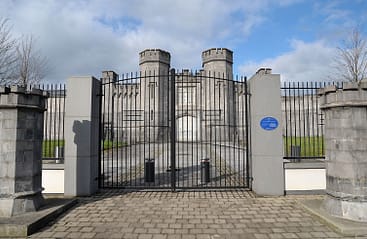 We are in the midlands of Ireland. PEP started here in January 2014, when we had just two attending. The second session grew, and during this third session, the attendance peaked at 28 before settling down to a very regular 15 men.
We wait a few minutes before Eddie, the very helpful Prison Officer, arrives to bring us through security search and on out through the prison campus. This is a high security prison, originally built in the 1830s from high cut-stone walls topped with a blaze of barbed wire. It is unnerving to see the soldiers patrolling above the parapets as we negotiate the twelve doors and gates before we reach the classroom.
We set out the 16 to 20 chairs, get the audio visual system set up, and week 10 is ready to roll.
The 15 men meander in, in twos and threes, with salutes, handshakes, comments, and banter. We know them now. Two guys are finishing their second PEP. A few others could be here for the Certificate of Participation, as it might assist with remission or application for transfer to an open prison. Most are long term, serving five or more years; some are lifers.
I jot down the roll, remembering the names; the guy in the Manchester United tee-shirt deserves some jibe; the guy with my own county colors is eager to discuss the hurling final. I tell one guy of walking the wonderful Curracloe beach near his home and instantly ask him if it's okay to talk of the outside. Of course it is; he is delighted to tell me of different walks and places around his home.
John calls attention, and the intro music calms all. I find a chair amongst the guys; I am no different; I need to listen. Prem Rawat is strong and clear, talking about contentment. And so full of humor. The guys are listening, concentrating; there is silence, all is quiet in the room. Just Prem Rawat's voice, joking, laughing, yet totally serious. A couple of guys jostle, nudge, snicker for a few minutes. But very soon the concentration is back; we are all bopping along on Prem Rawat's tide. Being tugged, pulled, pushed.
The inmates offer a few brief comments during reflection. One guy Martin, says, "It is very soothing, very touching, very enjoyable. One needs to tune in and pay attention to what Prem Rawat is saying."
Then all too soon it's over. We chat for a minute before they stroll out to phone calls or back to their cells. And we are escorted back out through the dozen doors and gates—discharged out into a cold October night in Portlaoise. Discharged but charged!