More than 75,000 people thronged the ICFAI University grounds to celebrate peace at the Youth Peace Fest in Jaipur on November 30, 2014. The city of joy and colors was inundated by a wave of peaceful celebrations. Jaipur has been known as the "Pink City" since the late 1800s, as all buildings are constructed of pink stone or painted some shade of pink, the color of hospitality.
The Prem Rawat Foundation (TPRF) helped to sponsor the event along with Youth Peace Foundation, the Times Foundation of India, Rotary International and others. The objective was to address the need for world peace by focusing on peace for the individual with fun, consciousness and excitement, thus encouraging a priority of peace at the center of the lives of young people. The peace event included an exciting blend of live music, videos and speeches focused on peace, along with inspiring displays.
As keynote speaker, Prem Rawat emphasized the urgency of the need for peace. "There can be no bigger achievement than bringing peace in life," he
said. Acknowledging that most young people are busy making plans for their future, he suggested including a plan for personal peace, pointing out that as people make the effort to change their own world, the world as a whole will change as well.
Youth Peace Foundation began its peace tribute with a mega event in Delhi in February 2014, attended by 180,000 people. On the International Day of Peace on September 21, a nationwide event called Walk for Peace engaged 360,000 young people.
"I found the whole program very motivational," said one attendee at the Youth Fest. "Prem Rawat's speech was quite inspiring. I want to join the peace tribute as it's a very good initiative."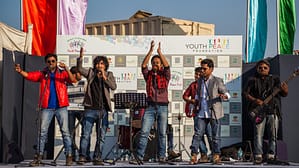 Ghumakkad The Band entertained the audience with popular songs, which resulted in an outbreak of spontaneous dancing. There were videos showing thoughts of today's youth about peace and posing some of their questions about life.
"It is overwhelming to see such spectacular support," said Balendu Mohan, Director of Youth Peace Foundation. "So many youth came from across India to join our peace tribute and to celebrate peace, and now we are seeing more youth coming forward to join our peace initiative." (www.youthpeacefest.com)