Matt Altman is a volunteer who helps TPRF with strategic planning and development. This is his first-hand account of the events surrounding Prem Rawat's recent visit to Ecuador.
I recently had the opportunity to travel to Ecuador to attend an event for the official launch of the Peace Education Program in South America, along with the public event in Peguche-Otavalo. The phrase "You Can Achieve Anything with Peace" provided a central theme for the two events.
A group of students in Otavalo, Ecuador shouted, "You can achieve anything with peace, you don't need to be in a gang," as they walked down the street to attend an event with Prem Rawat.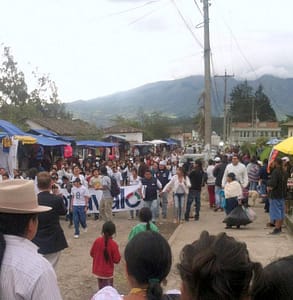 The official launch of the Peace Education Program in South America has generated tremendous excitement and enthusiasm in the Imbabura Province in Northern Ecuador for the work that Prem Rawat is doing to help make peace possible for every human being.  As one of the many things done to honor and commemorate the message of peace, the Kichwa tribe made a beautiful custom mural that reads, "Peace is already here and resides in the hearts of all human beings."
There was much anticipation and respect for Prem Rawat and his message leading up to the public event in Peguche-Otavalo. In the surrounding towns, I saw flyers on the counters in the shops and posters in the windows.  I heard people talking about the event and observed them engaged to support the possibility of peace.
An outdoor stadium nestled up to mountains in Peguche overlooking the town of Otavalo provided an ideal setting for the event. As the event began, a gentle rain touched us all, but our attention remained on Prem Rawat's address. I felt the audience was held captive by the stories Prem Rawat told, the wisdom he shared, and a deeper awareness of just being alive.
The time I spent in Ecuador was enriching, humbling, and an experience of a lifetime.  It was my first visit to the country and it moved me to see the effort of the people in honoring the planet along with advancing the understanding that peace is a fundamental human need. There is a real passion and hope for peace with the people.  I left with the feeling that the people of Ecuador are focused on lighting their candle and shining brightly to be an example for the world to see.