Il Peace Education Program (PEP) sta guadagnando sempre maggiore popolarità negli stati confinanti di Costa d'Avorio e Ghana, in Africa Occidentale. I volontari della Fondazione The Prem Rawat (TPRF) hanno recentemente iniziato a offrire questo corso multimediale innovativo a centinaia di nuovi partecipanti, e stanno preparandosi a renderlo disponibile a molti altri ancora. Il mese scorso il corso PEP  è iniziato nel villaggio di  Nouamou, in Costa d'Avorio. Lo ha presentato il signor Mozou, nativo di Nouamou, che ha voluto fare qualcosa per cercare di placare le discordie nel suo paese natale. "Sapevo che il nostro villaggio si stava dividendo su una questione politica – ha detto – ed ero sicuro che il PEP avrebbe aiutato in qualche modo il mio popolowould somehow help my people." Dopo varie settimane di incontri, il signor Mozou e gli altri volontari della TPRF sono riusciti a volunteers were able to gain the approval of the local chiefs and several local partner organizations to start offering the class at the Nouamou government's administrative building. Approximately 200 area residents attended an introductory celebration launching the program, which included traditional dances as well as videos of TPRF Founder Prem Rawat speaking about peace. The 10-week PEP course features videos of his international addresses on that subject as well as on other related themes such as appreciation, inner strength, hope, and choice.
The warring chiefs both attended the PEP introduction event, "sat side by side, talked to each other, and welcomed Prem Rawat's message of peace," according to Francis Ahore, a TPRF volunteer who oversees PEP throughout West Africa. He and the other volunteers are hoping that the event will help usher in a new era of peace in the village. "The class is helping me finally understand that true peace is buried within us and it is up to us to nurture this peace so that I can live and grow," says Anno Joseph, one of the Nouamou participants.
Meanwhile, in the Tonkpi area—another remote region in the mountains across Ivory Coast—chiefs from 11 villages were recently introduced to PEP. More than 400 people attended an introductory event that similarly featured traditional dances and videos of Prem Rawat speaking about peace. A local NGO donated an electric generator and a television for the event. "All the chiefs were receptive and have invited PEP into their villages," says Francis. Kiele is the first village in Tonkpi to begin offering the course. Volunteers are currently finalizing the translation of PEP materials into Yacouba, one of the common local languages, which will make the class more accessible and likely grow interest even further in the region.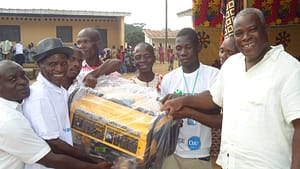 Across the border in Ghana, officials at James Camp Prison in the capital city of Accra have gained attention around the country with reports that PEP is having a positive impact on inmate behavior. In fact, 256 officers from every prison in the nation were recently introduced to the program at a meeting of the Ghana Prisons Service, the agency charged with overseeing the country's correctional system. "This is a great message for the inmates as well as us," an official from James Camp told his colleagues at the meeting. TPRF volunteers received a green light from Prison Service officials to offer PEP in every correctional facility in the country and are in the process of working out all the details. Just this month, PEP started at Nsawam Prison near Accra. "The PEP team is very excited about the initiative," says Francis. Meanwhile, inmates at James Camp Prison are continuing to share reflections about how the course is having a profound impact on their lives. "The program has been a blessing to me. It has really changed my mindset, and I understand clearly that the greatest miracle one has in life is the coming and going of this breath," a participant recently said. Another participant commented: "This program has helped me know who I am—to understand the gift of life, to understand the need to be happy, the need to be content, to understand that my existence is a miracle, to understand that all the love I could ever want is inside of me." Click on any photo below to view as a slide show: