Bobby Hendry oversees meal planning, hygiene, and staff service procedures for the Food for People facilities currently operating in India, Nepal, and Ghana.
An Interview with Bobby Hendry, Head of Catering – Part Two
Part One ended with Bobby Hendry on his way to Bantoli, India for a surprise visit to the Food for People (FFP) facility. He was also planning to meet local villagers to find out what they had to say about the program.
When I arrived back at FFP, it was a pleasure to see the place as clean as the first day it opened. Kids I remembered had grown and filled out. Then I went to two villages nearby—Bantoli and Bajiyatoli. The local teacher, who spoke English well, translated. We talked to approximately 20 villagers.
I heard about 11-year-old twin boys who had been traumatized by the tragic loss of their parents four years earlier. The boys had stopped speaking and had become so disruptive in class that they had been banned from school. The villagers brought them food, but only small amounts, so the boys were always hungry. When the FFP facility opened, the twins were able to go there. After a period of regular meals, they slowly began to talk again. Their behavior changed and eventually they were allowed back in school.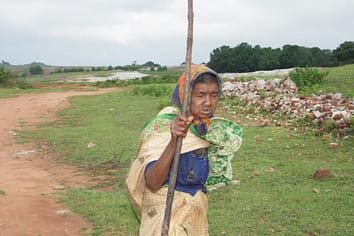 One elderly lady, about 85 years old, was very weak. When the facility opened, she tried to walk two miles to get there. She got about half way, turned back, and the villagers had to carry her home. After that, some of them would bring her meals from the Facility. Eventually she got stronger and went on her own. She explained, "In the beginning it took me a long time to walk there. But once I started eating there, I got there much quicker. My health is improving."
"You are doing a right job. Our children and older people are getting healthier," said Nandlal, a young father of several children. "Whatever you offer, we will enjoy."
We heard the same wonderful comments from everyone we talked to.
It was only after speaking to the villagers that I was struck by the uniqueness of the Facility's offerings. I finally understood what Prem had been saying all along about the full benefits of well-balanced daily meals.
Q: What do you feel have been the greatest achievements of FFP?
A­: Its greatest achievements have been feeding the desperately needy, ensuring that they get true nourishment, helping families and villages flourish, and giving children the hope of planning for the future where before it seemed bleak.
The local community in Otinibi village in Ghana has seen similar benefits. The Food for People facility now has an additional parcel of land nearby, given by the local Chief, to grow crops. FFP is also raising its own chickens.
At the Dhading Facility in Nepal, the story is the same. Even the Government of Nepal wants to pursue a similar program throughout the country. They are very impressed.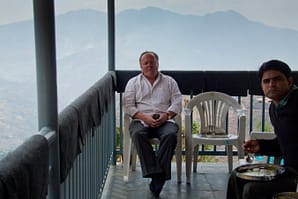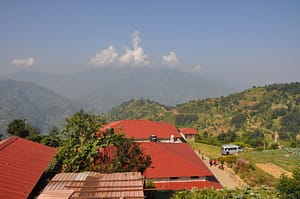 Q ­: Where do you see the development of the FFP facilities in the future?
A: As people get on their feet, there is a small drop-off in numbers. This allows another area or village to be included, assuring that the program reaches farther afield. Operational and meal costs are different at each facility.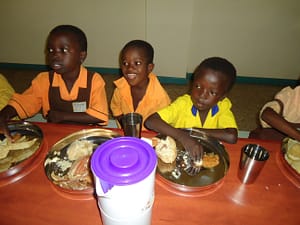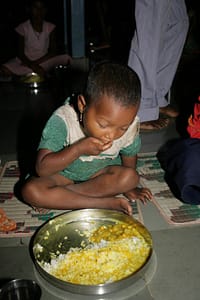 The cuisines in India and Nepal are mainly based on legumes, vegetables, rice, and wheat flour. Costs are lower than in Ghana where there is meat and fish in the diet.
When the locals get involved and the Food for People facilities work toward self-sustainability, then that is ideal. But when 500 to 600 people are being fed daily in each Facility, the effort will always need help.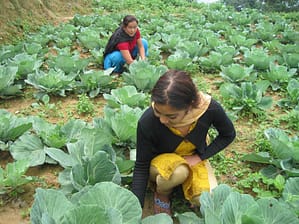 Overall, I would say these FFP kitchens have not only transformed people and communities, they have impacted me in the same way. I am very grateful for this, and for the privilege my job has become.