After the event in Ezeiza Women's Prison last April, Prem Rawat wanted to give the inmates a special lunch as a gift. Marcela Isaurralde is one of the volunteers who helped plan the celebration. This is her account of the lunch which took place on Monday, July 23, 2012.
When we arrived at the gym where the event was to take place, curious inmates began to join in. Some already knew what was going to happen that afternoon; others had no idea. Right then, they hurried to invite others, person to person. We brought a big screen, excellent projector and some handsome, friendly male volunteers, which the inmates loved. By 2 p.m. the gym was ready, and an unforgettable party was about to start.
The inmates came in, most of them wearing their very best clothes. In this prison the inmates don't wear uniforms. Their makeup and hairdos were awesome. Many young inmates arrived with their babies. It seemed that nobody wanted to miss this event. It almost felt like Prem Rawat was there.
Dahli, one of the other volunteers, introduced the event in a beautiful and friendly way. She explained to the inmates that Prem Rawat had offered this event and lunch for them. The inmates clapped their hands and whistled enthusiastically. Whenever a glimpse of caring is shown to them, they respond with love and cheerfulness.
Three short videos were shown. As always, they laughed when Prem Rawat told a story. Many might not know how to write or read properly, but they understand his stories and message so easily. Some in the audience commented to friends, "Listen, listen to what he says. Now you see what I have been telling you." These short videos were so welcomed by the inmates, so appreciated, so beyond words.
Then a folk musician from La Plata started playing the guitar. He told the inmates that he was also a volunteer in another prison with the same workshop. He invited the inmates to join in, and one of them, Shakira, stood at the front and started singing and encouraging her friends to dance and sing. What an opportunity to enjoy life! We were all singing and dancing, having a great time. It was such a heartfelt celebration.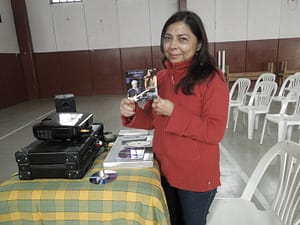 Lunchtime was amazing. The inmates were so delighted with the food. Some weeks before, we had asked what they would like to eat on this very special day. We prepared the special, traditional food they asked for—great delicacies that they hadn't eaten for years.
We also served hot chocolate and churros filled with dulce de leche. What a treat! They couldn't help filling their hands with churros.
When you are having a great time, you don't want to leave, and time flies. By 5 p.m. the inmates had to leave. All of them wanted to take some extra food for the night, for the next day, for the inmates who didn't come—and they did so. All of them filled their empty stomachs. All of them filled their hearts with so much joy and love.
During the afternoon, prison officials came for a while, including the priest. The Vice Director of the prison arrived with some other people. We continued singing and dancing, but one of them came up to me, introduced herself, and asked me some questions about the workshop. Then she asked me if the group would like to start this workshop in other units and men's prisons as well.
At that moment Silvia, the General Director of Federal Prison and Justice Minister, joined us as well and we totally agreed. Silvia gave us her personal card and offered to help us set up Peace Education Programs in other prisons as soon as possible.
The party was over, and with the same care and love, we did the take down. The inmates wanted to help us, but they weren't allowed. Feeling very thankful, we cleaned up everything. The place was so clean, so tidy. Our hearts were so happy, so thankful.
Before leaving, Stella, the guard who is helpful and always ready to give us a hand, told us, "This event was perfect, beautiful, as always when you do something with Prem Rawat."  We all hugged, said goodbye, and took some pictures with Stella, too.
The inmates called out, "Thank you for the party, for the banquet!"
We started our way back home by bus, then another bus, then by train, slowly. There was no need to rush—we were so delighted, feeling every moment of this unforgettable day.
Our hearts were dancing with joy. What a festival!