Meals at FFP Nepal changed the life of a needy student
Seventeen-year-old Mansingh Tamang, who once despaired of attending school past the eighth grade, is now taking advanced classes at a private school in Kathmandu and looking forward to attending university next year. It's a dream come true for a poor boy from a tiny village in central Nepal.
"Earlier, I had no plan at all, because I had no hope to continue my study," he says. "Now I've the confidence that I can become something. I can do something. I'd like to become self-reliant and help other people like me."
Mansingh, one of four children in a poor family in the village of Thakre, is fortunate to have parents who encouraged their children
to get as much education as possible. But when Mansingh's father, a carpenter, injured his hand and could no longer work, the family's finances, already stretched, suffered a major setback. His mother worked a small family plot and also did day labor on other farms, but this barely covered expenses for half the year for three adults, including Mansingh's blind grandfather, and four teen-aged children. The oldest son left school to find work in Kathmandu to help support the family. Mansingh and his older sister worked on weekends and holidays, but when the sister married it seemed impossible for Mansingh and his younger sister to stay in school.
"I was in grade eight in Adarsha School at Tasarpu when FFP started," he recalls. "It would have been very difficult to continue our study even up to the tenth grade if FFP had not been there. But we, along with friends, used to go together to FFP, have food and go to school."
Preparing for the School Leaving Certificate (SLC) exam all Nepalese must take at the end of the tenth grade requires intensive study. "For this," Mansingh says, "we had to study extra hours, staying in the school. We requested FFP to provide us with evening meals in addition to the morning meals. FFP did so. Otherwise it would have been very difficult or even impossible for us to prepare and pass SLC."
Mansingh passed with flying colors. But his desire to take advanced eleventh and twelfth grade courses faced further hurdles. There are no higher secondary schools locally. He would have to go to another town, where, in addition to school fees, he would have to pay for food, accommodation, and school supplies.
The Adarsha graduates again approached Premsagar Foundation Nepal, the local TPRF affiliate that runs FFP Nepal, for help.
"The Foundation found seven individual sponsors for seven needy children, including myself, to pay our fees for two years," says Mansingh. He attends morning classes from 6:00 a.m. to 9:45 a.m. at Edmark Academy in Kathmandu and then works the rest of the day for a company that provides free housing. "From my salary," he proudly reports, "I've been managing food, clothes, books and stationery, etc."
"I'm very happy to extend my hand with the Foundation to help the child shape his career," says his sponsor, Mr. Purnaman Joshi. "He is performing well. If he does well, I'd be very happy to continue to sponsor other children passing out of the school in Tasarpu benefitting from FFP."
According to a recent report from the International Labour Organization, about 40 percent of Nepal's children are full and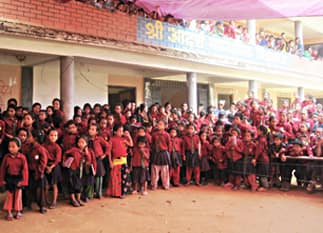 part-time laborers. About 9 percent have never attended school; 59 percent have not completed primary school.
"The biggest need is food," Mansingh says. "Without food, how can children go to school? Now, because FFP is providing food, all the children in Tsarapu are enthusiastic to go to school. Parents have also got the knowledge and inspiration that they should send their children to school.
"As I got nutritious food, my capacity increased. I was aware. I did not like to remain idle. I always want to do something. I'd like to make good use of the support I got."
He expresses profound thanks to FFP and TPRF's founder for the opportunity to change his life.
"You established FFP in such a poor and underdeveloped village like ours," he says. "You gave us inspiration to study. I'd like to thank you from the core of my heart."
The pictures of the children dancing are part of the celebration of Mansingh's graduation and farewell event.