Hope in the Heart of Soweto
On November 25, 2014, Prem Rawat traveled to Soweto, South Africa, to speak to 450 people who had either participated in the Peace Education Program (PEP) or were interested in it. The event was held at Uncle Tom's Community Centre at the invitation of Ernest Leketi, head of the Youth Development Department for Johannesburg's Department of Social Development.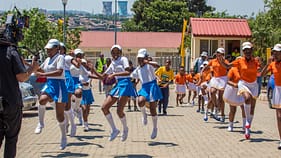 As Mr. Rawat arrived at the center, he was greeted by drum majorettes and traditional African dancers. When he entered the hall, a male choir began to sing African songs, setting the stage for a mood of joy and celebration. Throughout his talk, the audience frequently responded to what he was saying.
For example, Prem Rawat said, "Every single human being on the face of this earth has that power to transform. You, me, everybody in this world, we judge ourselves." Audience, "Yeah." Prem continued, "How am I? What degree do I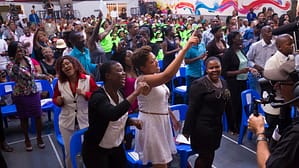 have? How big is my house? How many clothes do I have? How much do I have in my bank account? Then we see somebody else, and we say, I wish I was like that." Audience, "Mm, yeah, mm, yeah." At the end of the talk, the audience broke out in applause and spontaneous singing.
Just three months prior, two PEP facilitators, who had been offering PEP in the Johannesburg area for over five years, were invited by Mr. Leketi to give an introduction to PEP to people living near the Uncle Tom's Centre. There was so much interest that a PEP program was organized for 25 people almost immediately. Seven of the participants were simultaneously taking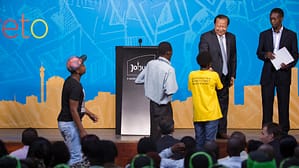 the course for the first time and preparing to facilitate future PEPs, so immediately following the first PEP, two programs began. After Prem Rawat's talk, more than 50 people received certificates of participation in PEP. For many of them, it was the first certificate they had ever received in their lives.
Beginning in January seven more PEP programs are planned for 400 participants. The City of Johannesburg has offered to provide up to 10 sets of PEP materials and 10 televisions or DVD players to help. PEP is being integrated as part of a Life Skills curriculum offered at community centers throughout Soweto.
Bordering Johannesburg, Soweto is the most populous black residential area in South Africa, one of the richest in history and economic diversity and home of Nobel Prize winners Nelson Mandela and Desmond Tutu, sports stars, and numerous musicians. Known for its sense of community, life is still a struggle for those most affected by high unemployment and scant opportunity.
Speaking a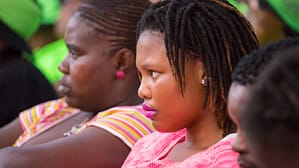 bout the effect of PEP, Mr. Laketi, "You'll find young people who are graduates, who don't find work. They become so frustrated that they develop anger within themselves. The Peace Education Program assists them, giving them hope, helping them appreciate themselves, and helping them to identify the other talents they have." He expects the program to spread like wildfire in the coming year and dreams of filling a stadium with 10,000 next summer if Mr. Rawat is able to return.
Slide Show
Enjoy 30 beautiful photos taken during Prem Rawat's visit with students of the Peace Education Program in Soweto, South Africa, on November 25, 2014.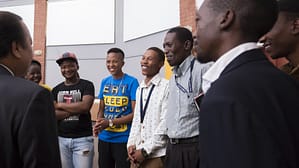 …A tiny flame has become a fire…