T. J. Enriquez is a longtime supporter of TPRF in the Philippines. T. J. does not live in the area most affected by the typhoon, but she joined with some of her friends to help bring aid to the survivors. Here is her firsthand report.
It's been two months since typhoon Hainan swept through the Philippines. In the hardest hit areas like Tacloban, people who survived are saying they are lucky. They expected the typhoon to arrive during the afternoon or nighttime, but it came in the morning, when they were not prepared at all.
During the typhoon, the winds were so strong that debris was flying everywhere; the force of the wind was just tearing everything apart. Most of the survivors are the ones who were able to hold on to the trunk of a coconut tree or who found shelter in a large stone cave. Of those who were swept into the water, a few survived by swimming while holding on to floating debris.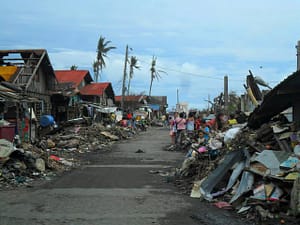 When I arrived with some others bringing food and medicine, we saw people looking at us as though they weren't seeing anyone. Just blank stares. After a few minutes, some would simply begin crying. Most were very hungry. It was as if the whole town was gone, full of darkness, but you could hear crying and smell the decay of garbage.
When we drove to one village, people surrounded our car, begging for food. You could see that they needed clothes and shelter to get warm and dry again. In yet another village, people were lining up, waiting for their turn to buy whatever they could–sometimes just a cold soda.
It was a really good feeling to be able to offer help even in a small way. Many others were doing the same, traveling to the worst damaged areas and offering what they could. We have to help each other in times like this. We are fellow Filipinos. You could see that the survivors were beginning to have hope.
What TPRF and many other organizations are doing is beginning to show results. But there is still a long way to go.