Pictured (from left to right) the staff of Miami-Dade Corrections and Rehabilitation Center: Director James Reyes, Lucy Collins (Reentry Volunteer of the Year), Deputy Director Cassandra Jones, Counselor Terrence Matthews, and Chief of Corrections JD Patterson.
Changing Lives Garners Both Personal and Public Rewards
"I just look at people as human beings." ~ Lucy Collins
Ms.Lucy Collins, a volunteer facilitator of the Peace Education Program at Miami-Dade Corrections and Rehabilitation Center received its "Reentry Volunteer of the Year" award on April 13, 2023. Ms. Collins' outstanding commitment, caring and positive impact on the incarcerated persons she serves has been noted by many at the Center. She was presented with the inaugural award at a special appreciation breakfast event attended by the Center's staff, heads of social services organizations, and the city's mayor, Daniella Levine Cava.
However, she views the satisfaction of effecting change in the lives of those she refers to as "the forgotten people"  – a reward itself.
"To be able to observe that transformation is a total gift," says Ms. Collins.
(Side note: "Reentry" refers to those incarcerated persons who are preparing to re-enter mainstream society.)
Watch this short video that Miami-Dade Corrections made to highlight her extraordinary work:
A Passion for People and Peace
TPRF Communications Specialist, Lara Palafox, catches up (and then tries to keep up) with Reentry Volunteer of the Year Lucy Collins during an interview…
It's not just those who work with Ms. Collins in correctional centers that are impressed. When I had the pleasure of interviewing her between her many activities her vibrant, whip-smart personality created another fan.
Ms. Collins has been volunteering at Miami-Dade for 10 years. Curious about her experience as a program facilitator at a correctional center for the first time, I asked whether she had felt any trepidation or hesitation. Her answer? A flat "No."
After a second or two of silence, I asked "So, no fear at all, then?"
"No."
I laughed. "Well, how did you feel?" I asked.
Ms. Collins replied simply, "I just look at people as human beings. I have a lot of compassion and respect for them."
And that respect is evident in the way she describes the participants in the Peace Education Program. She says that when they first arrive in the room, "A lot of people are so hurt. They have no respect for themselves or anybody else. They just look down at the table. I had the honor of watching them transform – become who they truly are."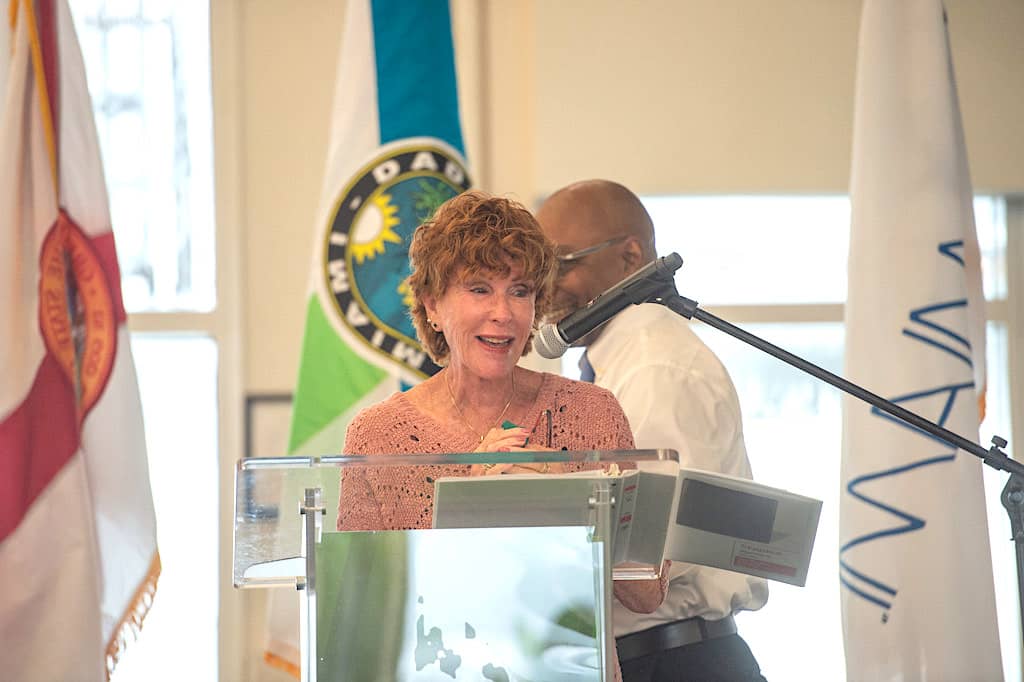 Lucy Collins (pictured with Terrence Matthews): Reentry Volunteer of the Year receives her award at the inaugural volunteer appreciation breakfast in Miami-Dade, Florida.
A Flood of Appreciation
It is with this same humility that Ms. Collins accepted the award during a torrential downpour on the morning of April 13. In fact, due to flooding in the area, she almost didn't make it to the breakfast ceremony. Knowing nothing of the intended award, she had decided to make every effort to get to the breakfast. She had already confirmed her attendance, and hadn't wanted to let anybody down.
Once there, Ms. Collins, still unaware of her award, sat listening as the host described the work and many achievements of an outstanding volunteer. A moment before she was called to the stage she realized the description was of her – and she burst into tears.
"Then they called me up to the stage. I'm still crying. I make my way to the stage and my bracelet is stuck to my sweater," she laughs.
If anybody noticed, they probably didn't care one iota. Ms. Collins has brought such warmth and light to those around her that they just want to hug her. And many did.
When it rains it pours…
Helping others is in Ms. Collins' nature. Around 35 years ago, she volunteered to assist with child advocacy fighting for those taken away from their parents (Guardian ad Litem). Currently, she volunteers for the Peace Education Program at two other correctional institutions apart from Miami-Dade: Turner Guilford Knight Correctional Center (TGK) and Everglades Correctional Institution. In total she spends approximately seven hours a week doing volunteer work.
When she began volunteering at TGK 12 years ago, there were very few people involved. However, after volunteering at the Miami-Dade Corrections and Rehabilitation Center, she found an ideological soulmate, Terrence Matthews (whom she fondly refers to as "my brother from another mother"). Mr. Matthews, who was a counselor at the Center at that time, saw the wonderful effects the Peace Education Program was having on participants. He fully supported it and Ms. Collins' work.
Now, Mr. Matthews is in charge of Volunteer Services for all correctional institutions in Miami-Dade and his endorsement of the program is creating a wider impact. At the same time, Ms. Collins' long-term commitment and efforts to sow the seeds of peace have come to fruition.
In fact, the love and appreciation for the difference she has made and is making in people's lives is so evident that others want a piece of her and the Peace Education Program. After they witnessed her award at the breakfast ceremony, declarations of interest by those in charge of programs for police officers, veterans and a rehabilitation center have been coming in.
Lucy Collins: Peace is in her nature
No Expiration Date On Joy
With so much on the horizon, Ms. Collins doesn't see an end to the work she calls "joyous."
She is spurred on by the transformations she sees in not only those about to leave incarceration but also in those who will remain "inside" for some time to come. Some of the Peace Education Program participants have been enjoying the program year after year. Her voice is full of praise as she describes how amazing she feels they are.
"I just did a class and they were joyous. When others spoke and expressed themselves, the others clapped. They respected each other," she enthuses.
Ms. Collins notes that the positive effects on participants have been so great that the consensus is:
"If it took me coming to prison to learn about this message and learn about myself, then it was well worth it." 
I asked the Miami–Dade Reentry Volunteer of the Year how long she foresaw herself continuing to facilitate the program.
Her reply: "Presenting this program is one of the greatest joys of my life and I hope to continue to do so as long as I possibly can."
Many people hope so too.
Discover more about the Peace Education Program here