The devastating strike of Typhoon Haiyan in late 2013 highlighted the need for many Filipinos to gain better access to safe drinking water. In the wake of that storm, The Prem Rawat Foundation gave a US$14,500 grant to install a filtration system that recently began providing affordable drinking water to thousands of people who live in one of the poorest neighborhoods in the city of Legazpi.
Thanks to the TPRF grant, the Rotary Club of Legazpi was able to partner with city officials to install the filter and begin distributing water March 15. The opening ceremony was attended by the mayor of Legazpi, hundreds of thankful local residents, and reporters from several media outlets. In the weeks since, thousands of people have come to the secure site to fill their five-gallon plastic jugs with potable water from the purifier, which can handle up to 6,000 gallons a day.
"The purifier is in good hands. It's functional and effective," reports Francoise Montagne, a TPRF volunteer who attended the opening ceremony.
Users ar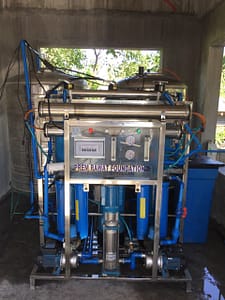 e charged a nominal fee of 5 Philippine pesos (About $US 00.11) per jug to help cover the costs of maintenance and the salary of a caretaker who will facilitate distribution. That compares favorably to the 35 pesos charged by local shops for the same amount of water. Only local residents classified by city government as economically in need qualify to receive the water.
"The Rotary Club of Legazpi deserves special acknowledgement for overcoming a variety of logistical challenges that were in its path before successfully installing the system," says Peter Novick, TPRF's Grants Team Manager.
In the immediate aftermath of Typhoon Haiyan, TPRF distributed an additional $100,000 in grants to its long-time partners, AmeriCares and Mercy Corps, which helped victims address pressing needs such as medical care, food, and water.