TPRF Joins the Global Celebration of Water on World Water Day
The question before the world community is how can sources of clean water be created and sustained for the millions who do not have access to that essential human need?
Here are some examples:
As is typical after major disasters, people in the Philippines are suffering from a shortage of clean water after Typhoon Haiyan. Choosing one of the hardest hit communities, TPRF is partnering with the Rotary Club of Legazpi to install a filtration system that will provide a continuous source of clean, safe drinking water to about 3,000 inhabitants of Barangay San José, in the district of Tacloban.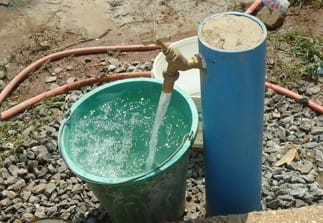 The filtration system will not only address the immediate need but will continue as a reliable source of clean water for years to come. This is an excellent model of what can be accomplished on a community level with a minor infusion of help from the outside. Local initiative and ownership are the driving forces. Small steps multiplied have the potential to have a massive impact.
Another example is a situation that became apparent at TPRF's newest Food for People facility, operating since May 2012 in Otinibi, Ghana, on the outskirts of Accra. Hundreds of children and ailing adults have been receiving nutritious daily meals for almost a year. School attendance has risen and community health is improving, BUT…
There was a problem with access to clean water, which was not readily available locally. According to FFP staff member, Alexander Wiredu, "Water had to be purchased from tankers whose water source was usually unknown, thus bringing into question the purity of the water." This questionable water was also expensive and not always available.
As Alex asked, "Water, they say is life, but can it really be considered life when it is unclean to use or unsafe to drink?" The solution? TPRF supporters donated the money to build a borehole near the facility, which now guarantees a constantly available flow of clean water. "It is now used as drinking water, for preparing food, cleaning, and watering the flowers," Alex reports, "creating a wonderful and serene environment at the facility."
Once again, the local community identified the problem and managed its solution. People from far away, who had the ability to help,
provided the means.
While clean water is a given for most in North America and Europe, according to the UN, it is non-existent for almost 800 million people, and 2.5 billion have no access to adequate sanitation. As a result, WHO reports that 1.8 million people die of waterborne disease each year.
Who can help? Everyone—everyone who is privileged to drink, cook, and clean with clean water. Everyone with concern and respect for the people in need.
Donate here to TPRF or the charity of your choice.