Amid blooming poppies, lilies, and larkspur, approximately 100 people came together June 7 in the Western North Carolina countryside to celebrate life and raise money for Nepal earthquake relief.
Hosted by Ron and Rachel Clearfield on their gorgeous mountain property about 30 minutes outside of Asheville, N.C., the "Golden Garden Party" featured heartfelt musical performances, a delicious Indian feast, and a live auction. All told, the independent event raised $5,500 for The Prem Rawat Foundation's (TPRF) efforts in Nepal.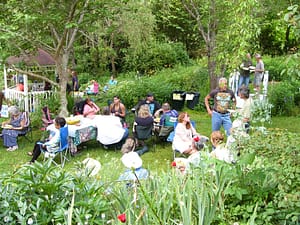 "Organizing this fundraiser was a labor of love. I think it was very successful, and people were very generous," says Ron, a popular local musician and orchestra conductor. "It's all about helping people. You get so much reward in your heart."
This was the eighth annual spring that the Clearfields have hosted the party, with proceeds going to different TPRF programs over the years. But the opportunity to help Nepal earthquake victims gave the event special significance says Rachel, who spends hours on end tending the garden. An accomplished artist, Rachel also donated paintings and jewelry to the fundraising effort.
"This year I felt like I wanted to do more because it's more of an emergency. The need is more dire," she says. "The party is a huge amount of work, but that's okay because it's about helping people. I'm very happy knowing that I'm contributing to helping families and changing lives."
About 25 volunteers from the Asheville community helped make the event happen, and several local businesses, such as Mela Indian Restaurant and Noble Cider, donated refreshments. Three diverse musical acts played for free on an outdoor stage built by volunteers, treating listeners to everything from traditional Ap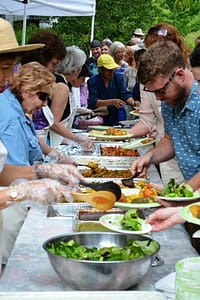 palachian old-time tunes to modern jazz fusions. The songs even spurred a few brave souls to dance on an adjoining grassy knoll. Thunderstorms rumbled nearby, but only a few drops of rain fell on attendees as the sun set over the lush green mountains.
The fundraiser was open to the public, attracting media attention and support from many in the area who weren't otherwise familiar with TPRF, including a pair of local Nepali doctors who helped promote the event in their office.
"Thank you for hosting the fundraiser for Nepal on your land. Nepalis need all the help they can for now and for many more years to come," wrote doctors Chand and Thakuri in an email to Ron and Rachel. "The outpouring of support for the people of Nepal that has come from people like you touches us to the core."