The Prem Rawat Foundation (TPRF) is partnering with the Prison Education Foundation to bring the Peace Education Program to prisons across São Paulo, Brazil to help inmates rehabilitate.
The Prison Education Foundation (FUNAP) renewed a partnership to bring The Prem Rawat Foundation's Peace Education Program to more than 6,000 inmates at 11 prisons across the state of São Paulo, Brazil by the end of this year.
FUNAP is a state foundation, linked to the Secretariat of Penitentiary Administration (SAP), in charge of helping inmates to rehabilitate and reintegrate into society through educational, labor, cultural and legal assistance initiatives. FUNAP Executive Director Henrique Pereira de Souza Neto signed the agreement to expand use of the Peace Education Program after a successful pilot had a notable impact on hundreds of inmates in the state earlier this year. Impressed by the results, several prison directors endorsed the program and recommended the expansion.
"I suggest that the project be expanded to the largest possible number of people deprived of liberty at the state level–and why not at the national level," says Claudemiro Alves Mauricio Junior, Director of Education at ASP Joaquim Fonseca Lopes Penitentiary.
Many of the inmates report that the program has been transformational.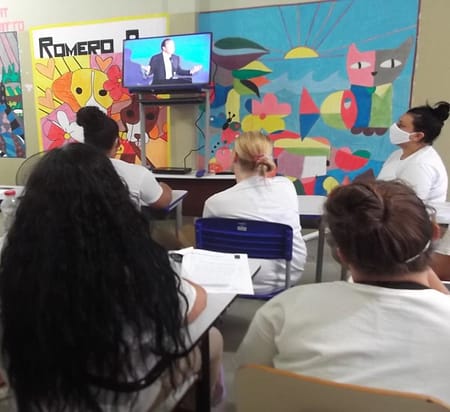 "I was studying and working in prison. Then COVID came and I could not study and work anymore. I was depressed, because I was doing nothing everyday. Now, I feel happiness and I know that peace is possible," says one of the participants at Capital Prison.
The Peace Education Program was created to help participants from all walks of life discover their own inner strength and personal peace. Excerpts of Prem Rawat's inspiring talks are at the heart of the program workshops, giving participants the opportunity to focus and reflect on their own humanity and their inner resources such as choice, hope, and dignity. Rather than describing or defining personal peace, the program empowers individuals to reach their own understanding.
The expansion in Brazil will be implemented with the help of approximately 150 volunteers and a local NGO, Society for the Support of Knowledge and Inner Peace. This development follows growing international recognition.
Earlier this year TPRF signed agreements with the South Africa Department of Correctional Services and the Italian Ministry of Justice to offer the Peace Education Program at correctional facilities throughout those countries.The program has already benefited more than 60,000 people in the correctional, probation, and parole systems in 40 countries, winning praise from officials for improving inmate behavior, reducing recidivism, and other positive outcomes.
A comprehensive recent study found that 89 percent of 604 incarcerated participants in four continents benefited by helping them feel empowered to face past events, gain a willingness to change, better manage their anger and avoid fighting.
The Peace Education Program also has a proven track record of benefiting diverse people outside of corrections, from other disadvantaged populations to university students and community groups.
The Peace Education Program workshops can be offered in person, virtually, or on inmate tablets by GTL and Edovo (tablet versions currently available in the U.S. only). The Prem Rawat Foundation makes the workshop materials available free of charge.
The Peace Education Program is just one of the ways that TPRF advances dignity, peace and prosperity by addressing fundamental human needs. TPRF has provided more than $450,000 for COVID-19 relief projects throughout the world in the last year, including initiatives in Brazil to provide medical care and food to vulnerable populations.