Tomás del Arco has earned a Bachelor's Degree in English Studies and is preparing for a career as a speech therapist. He resides in Pamplona, Spain. Tomás began his TPRF volunteer work in March 2011.
In the far west of Spain, near the border of Portugal, lies a town of just over 35,000 inhabitants, called Don Benito. Living in this rural setting, thirty miles from Mérida's famous Roman Theater, is Luis Mariano Rojo, who has dedicated almost his entire working life caring for people with drug addiction.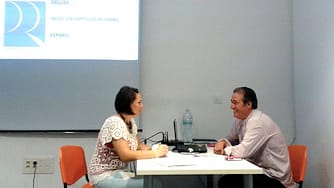 Mariano, a social and cultural educator in the Center for Detoxification and Emotional Re-education, established "Tu Paz es Posible" (Your Peace is Possible).
He works with social worker Esther López. Together, they provide The Prem Rawat Foundation's Peace Education Program (PEP) as part of the Center's treatment for reintegration into society at large.
Mariano also coordinates the PEP morning and evening classes held in the local Civic Center and in the Cultural Center, in neighboring Santa Amalia. Each week, an average of 40 people attend the classes in the three centers. I recently interviewed Mariano about his role as a PEP volunteer:
Mariano: I've witnessed the change that PEP has made in the lives of many people, especially those who suffer greatly from social, family, and personal alienation and come to the Rehabilitation Center for help.
The classes are an opportunity for them to discover an inner strength that they weren't aware of before, and as a result, they value their own lives more.
Tomas: Are there any special moments you could share with us regarding the students at the Center?
With heartfelt satisfaction, Mariano plays a video that was recorded at the Civic Center in which former rehabilitation participant Rafael and his mother Aurora speak:
Rafael: First of all, I'd like to express my gratitude, especially to Prem Rawat, because, in all honesty, thanks to him, I'm here. Looking back at my life, I can definitely say that I once knew what it was like to feel happiness and peace inside.
Something happened in my life that made me lose it—I don't know how—and I ended up full of intense bitterness, failure, and destruction. I didn't know how to find those feelings I had lost, that I so longed to get back. Again, thanks to Prem Rawat, I can feel that happiness again—that will to live and to fight. And I think it's a happiness that my mother and I both feel. My mother sees that I feel good and enthusiastic about life again. I've always been cheerful, full of fun, and enjoyed cracking jokes. But then, during a certain period of my life, it just disappeared.
Aurora: There was a happy atmosphere at home, and we lived well, thank God. But we ended up losing all hope. Because when someone suffers from depression, it affects the whole family and everyone ends up very sad. Now, I truly feel good. I feel content because he is happy. We all feel good and, thank God, we are all very happy.
Life carries on in this quiet town. Thanks to the work of a few volunteers, one day a week, a group of people will have the opportunity to discover peace, following the same program that has helped to improve the lives of thousands around the world.