After suffering from crippling vision problems for far too long, Motilal needed help. The 72-year-old resident of Uttar Pradesh in northern India couldn't scrape together enough money to pay for a doctor's appointment. But along with thousands of other rural villagers in need, Motilal recently found free care at an eye clinic sponsored by The Prem Rawat Foundation (TPRF).
The medicine and the prescription glasses Motilal received there changed his life. "It appears that I got a new body in my old age. Thanks to all," he said.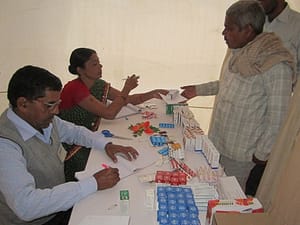 This winter TPRF partnered with two other nonprofits–Premsagar Foundation and Raj Vidya Kender–to serve 7,519 people who couldn't otherwise afford eye exams. Two-day clinics were held in each of four states across northern India, attracting people who walked as far as 25 kilometers in search of help. Patients were welcomed with open arms by all-volunteer staffs of optometrists and ophthalmologists, who distributed 4,637 prescription glasses and 5,381 packages of eye medicine. They also diagnosed 1,002 people with cataracts, referring them to government hospitals for further treatment.
TPRF has been sponsoring eye clinics like these for the last 12 years in India, which holds the dubious distinction of having the highest proportion of blind people in the world. About 90% of the roughly 285 million people who suffer from visual impairments around the globe live in poverty, according to the World Health Organization.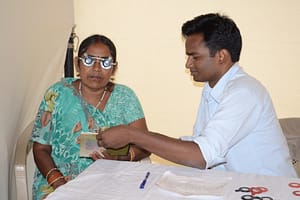 The good news is that about 80% of eye problems are preventable or curable with the type of modern care provided at TPRF clinics. And expressions of gratitude among patients this winter were plentiful. In the state of Rajasthan, Deepa Tiwari conveyed awe at the power of the medicine and glasses she received to improve her life. "Now I can see," she said simply as a smile beamed across her face.
For Dr. Binod Kumar, one of the volunteer physicians, it was that kind of smile that made the long days of service a joy to take part in. "I liked this clinic so much and pay my thanks," he said. "I hope this type of clinic will be organized again."