Chris Mac Vittie (left) and Daya Rawat performed at the gala benefit.
Peace Partners launched its inaugural event on October 3 at the prestigious Millennium Mayfair hotel in London, England. More than 200 guests attended, hailing the event as a great fundraising achievement and a wonderful evening.
Juli Hammersley started the independent Peace Partners charity organization with the goal of raising money for The Prem Rawat Foundation's (TPRF) Food for People (FFP) program, which provides free meals to thousands of children in Ghana, India, and Nepal.
The Forging Ahead event had two main aims: to raise funds that could then be donated to the TPRF program and for guests to have a really great evening, according to Juli. "It was so inspiring to see people giving their time freely to help others and creating such a wonderful evening to support this cause," she says.
The event featured a wide range of inspiring speakers, videos, musical acts, and a 3-course dinner.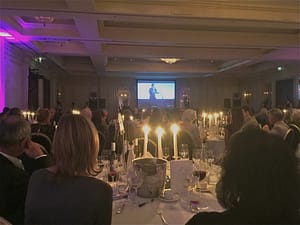 Sheila Jane Malley, Director of Grants and Policy for BBC Children in Need, spoke about the immense value of providing regular meals to children and how sometimes all it takes is a little aid to turn lives around. Ayrton Cable, the 14-year-old founder of the Water and Food Youth Awards, described the profound impact it had on him to visit Africa and see how a boy of a similar age struggled to get the food he needed every day. His presentation included short videos showing some of the humanitarian initiatives adopted by schools around the world.
The evening also featured a video of an interview between Ayrton and TPRF Founder Prem Rawat from the 2014 Water and Food Awards ceremony in London.
The President of TPRF, Daya Rawat, provided some background about the FFP program before introducing Bobby Hendry, a fine dining chef, involved with the inception and management of the TPRF kitchen facilities. Bobby gave a poignant example of how even small donations can make a big impact in peoples' lives: the cost of a glass of fine wine can provide enough food for one child to eat for 27 days, he said.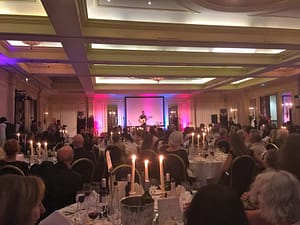 Later, Daya joined Chris Mac Vittie onstage for a captivating set of sweet acoustic music. Other musical acts included a powerful singer from Burundi called Mudibu, as well as Tim Hain and Friends, an up-tempo band that had the crowd dancing and finished the evening in style.
Some Gala attendees shared positive feedback with the event's organisers. One enthusiastically said: "I had a wonderful evening at the Forging Ahead Gala Benefit. … It was summed up nicely by a waiter who came to our table and commented that he had been a waiter at many events in this ballroom of the Millennium Hotel, but he had never experienced anything like the feeling that was in the room tonight."
After all costs were paid, the event raised £11,844 (US $17,815) for TPRF with an additional £ 7,000 ($10,529) in pledges still to come in.
For more information on the work of Peace Partners, go to: www.peacepartners.co.uk Thanks to Peace Partners for giving TPRF permission to reproduce part of its online article, and photographs.