Strengthened by the nutritious daily meals they eat at the Food for People (FFP) facility, student athletes from the small town of Otinibi, Ghana recently qualified to compete at the highest level of elementary school sports in the country for the first time ever.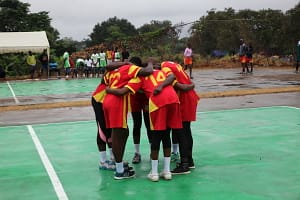 The August 12 tournament marked an extraordinary turnaround for the Otinibi community, where students had suffered from such malnourishment that they weren't able to participate in competitive sports until FFP opened its doors in 2012. Since then, student athletes from the Otinibi Basic School and neighboring Aisha Bint Khalifa School have been earning a reputation for excellence at local sporting events. Their mounting success caught the attention of scouts, and 12 students from the schools were invited to join the Greater Accra regional team at the national event in the city of Koforidua.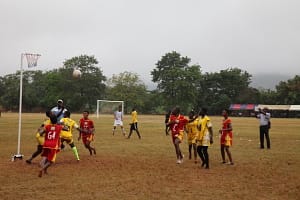 Despite rainy conditions, Otinibi athletes were happy to compete with vigor in netball, volleyball, handball, and running events, making their supporters back home proud.
A range of students, coaches, and parents credited the FFP service for making their participation possible. The program has also received accolades for improving community health, increasing school enrollment and achievement, and boosting the local economy.
"The meals have transformed and emboldened these students, giving them stamina and empowerment," says Alex Wiredu, a reporter for The Prem Rawat Foundation (TPRF) who has been observing how FFP has changed Otinibi for the last six years. "Thank you to Prem Rawat, TPRF, all of the donors and everybody in Ghana and around the world who have helped changed the destiny of these children."
Alex reports a couple of noteworthy results from Otinibi participants at the Koforidua tournament:
Ibrahim Nura, the youngest person on the netball team, was voted "Best Player" in two of the four matches played.
Hannah Tsuimdjor placed sixth in the 800 meters final.
Congratulations to all of the student athletes from Otinibi! Subscribe to the TPRF email newsletter to see video interviews with some of them, and stay up-to-date on all the latest news about TPRF initiatives around the world.