Each year in Ghana, the first Friday of December is National Farmers' and Fishermen's Day. It is a public holiday celebrated on district, regional, and national levels, where the best farmers and fishermen are given awards. The theme for the 2014 holiday was, "Grow what you eat and eat what you grow."
Food for People (FFP) in Otinibi, Ghana fit the bill perfectly. Since May of   2012, FFP Ghana has been serving a hot nutritious lunch to an average of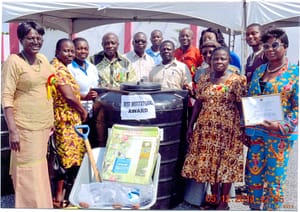 400 school children every day. Meals have been provided for the ailing elderly as well, both at the facility and by delivery to their homes. Before long, attendance at school increased and students' grades began to improve. Older people suffering from malnutrition began to gain better health.
Soon it became obvious that growing as much of the food used for these meals as possible onsite would have many benefits, such as providing work for locals and guaranteeing a steady supply of fresh organic vegetables at a good price. After a vegetable farm was established in 2013 on two acres of land donated for that purpose, a chicken farm was also developed. Before long, the Food for People farm was providing all the eggs, chicken, and vegetables for the meals served and it was no longer necessary to purchase food from an outside market. Among the crops grown are carrots, lettuce, cabbage, tomatoes, onions, okra, chili peppers and green peppers.
On the 20th of November 2014, officers from the Municipal Assembly of the La Nkwantanang District came to the Otinibi facility to inspect the farm. As a result, FFP Ghana was nominated for the Best Institution Award along with other institutions such as schools and hospitals, and was invited to display some of their produce at the local Farmers' Day celebration on December 5, 2014.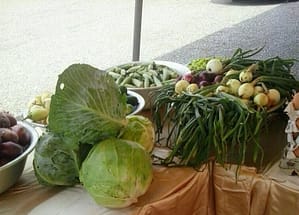 With some quick and efficient work from the staff, FFP crops, chickens, and eggs were displayed at the fair-like celebration. At the end of the day, Food for People was selected for the award in recognition of its fulfillment of the "Grow what you eat and eat what you grow" motto. The food kitchen, known locally as "the canteen," was publicly acknowledged for its outstanding contribution toward the development of agriculture in Ghana.