Bringing together hundreds of people from across the region to support The Prem Rawat Foundation's (TPRF) humanitarian efforts, this year's annual Golden Garden Party will happen June 1 in the Blue Ridge Mountains near Asheville, NC. The independent fundraising event will feature four lively musical acts and tasty food from Mela Indian Restaurant and Hickory Nut Gap Farm.
All proceeds from the event will go directly to the Food for People (FFP) program, which provides clean water and millions of nutritious meals to disadvantaged children in India, Nepal and Ghana.
It's the second year that Brad and Leah Stickels are hosting the party on their lovely property in Fairview after taking over the duties from Ron and Rachel Clearfield, who hosted the party for a decade.
"We are very honored to host this Food for People fundraiser on our land to benefit these children in need," says Leah. "We are also really inspired by the way the Asheville community comes forward to support this event. We are hosting it, but the community is making it happen: all of the wonderful volunteers, musicians, sponsors, and attendees."
More than 150 people attended last year's event, raising $7,000 for FFP. Organizers are hoping to top those numbers this year, so they can feed even more malnourished children.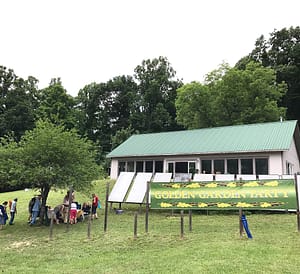 People anywhere in the world can show their support by buying raffle tickets online, and will be eligible to win the prizes even without attending the party. Generous anonymous donors will provide $1,500 in matching funds toward raffle ticket purchases, amplifying the impact. Prizes include a wide variety of fine art products, therapeutic sessions, gift certificates and more. Proceeds from beverage sales will also be matched up to $500. All of the musicians are volunteering their performances.
Buy tickets and see the prizes here.
Food for People is just one of the many initiatives TPRF employs to fulfill its mission of addressing the fundamental human needs of food, water, and peace.
What: Golden Garden Party XII, featuring musical performances by Armadilla (rock), Isabel Castellvi (cellist & singer), Madelyn Ilana (folk & hip hop), Sendero (Native American flute) and dinner from Mela Indian Restaurant and Hickory Nut Gap.
When: June 1, 2-6 p.m.
Where: 32 Pine Hill Rd, Fairview, NC, 28730
Price: $30 suggested donation includes dinner and drink voucher
Why: To raise funds for the Food for People program, which feeds disadvantaged children.
More Info: Visit the Garden Party website or call 828-628-4652