Ninth graders in Otinibi, Ghana are being given a boost this week as they take their national exams during the COVID-19 pandemic.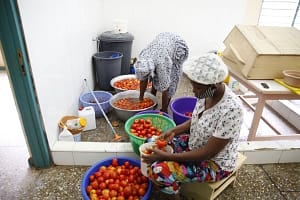 While normal Food for People (FFP) services in the area remain paused due to local regulations to stem the spread of the virus, lunches are being safely prepared and delivered to classrooms to help fuel students during the tests. The exams play a crucial role in the ninth graders ability to move on to higher education. The service is being appreciated by students, teachers and parents who are facing hardships during the difficult times.
Since the FFP dining hall opened its doors in Ghana in 2012, enrollment at nearby schools has skyrocketed, compelling officials to build new classrooms. Student health and athletic achievement have improved dramatically, as well as crucial end-of-year test scores.
Under normal circumstances, hundreds of students and elders gather at the FFP facility for healthy lunches each day. Those services will resume as soon as it is safe from the worry of spreading COVID-19.
In the meantime, FFP is also delivering food and supplies to elderly and handicapped residents in the community who are in need.
The humanitarian efforts in Ghana are just one of the many ways TPRF is responding to the COVID-19 pandemic internationally. You can stay up to date on all of those initiatives efforts here. 
See how the Food for People program helped Kenneth pass his exams and become the first student in Otinibi, Ghana to pursue a university education: