When a child's belly aches with hunger, they can't focus on school lessons, let alone sports. For many years, the children of Otinibi, a village located on the outskirts of Ghana's capital, Accra, had little choice but to skip school and try to work odd jobs in order to make a little money for a meal.
That began to change in 2012 when The Prem Rawat Foundation established a Food for People facility near the local school, providing hot nutritious meals to students in need. The kitchen has grown to serve about 400 healthy lunches each weekday, with vegetables and meats raised at an onsite farm. Free from the intense worries of finding something to eat, the kids are now better able to thrive in their studies and extracurricular activities. A recent visit to the area revealed a wealth of thankful smiles and positive reports.
"The facility has helped us in so many ways," says Rachel Annum, a student prefect at the school. "We appreciate this facility. It has given the community plenty of things. It gives us balanced diets."
According to religious and moral education teacher, Christian Yaw Adinkrah, "The facility has brightened the lives of the children and our responsibilities as teachers have been made easier since most of the students are now actually committed to staying in school."
The statistics show major progress. In 2013, the total number of students enrolled in the school was 350. By 2014, that number had grown to 494, and now, in 2015, 544 students are enrolled. Not only are the school halls always filled, but some classes are actually being forced to be held outside under the shade of trees due to a lack of indoor space.
It's not just attendance that's increasing–academic achievement is also on the rise. In 2013, over 90 percent of junior high graduates gained admission into senior high schools. And in 2014, the school attained "100 percent distinction" for the first time ever. That means that all students who took the Basic Education Certificate Examination achieved scores high enough to qualify for enrollment in senior high schools. Nationwide, only about 60 percent of students who take the examination earn high enough marks to qualify for further education.
Abigail Awadu is one of the local students who passed the exam with flying colors. Aided by the meals provided by FFP, she graduated from school in 2014 as the best student in the Otinibi area, and was awarded a government scholarship to help pay her way through senior high this year.
Meanwhile, two students have been appointed as canteen prefects. Their responsibilities include assisting other children in the use of cutlery as well as providing tips on personal hygiene both before and after eating.
The program has drastically reduced sickness among students. "Outbreaks such as typhoid and cholera have since been reduced almost completely," says Grace Ninsaw, the school's headmistress. "It is comforting to know my students are safer and healthier, eating from the FFP facility."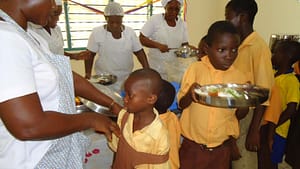 Fueled by the facility's balanced meals, students are also excelling at sports. The school fielded soccer, volleyball, and handball teams at a recent tournament, with much success. The boys' under-15 soccer team won their division, while the girls' under-12 handball team also emerged victorious. The winning teams will now represent the school at a larger tournament, competing against other squads from across the region.
The FFP kitchen recently received an enthusiastic seal of approval from Francis Steele, a supervisor with the Ministry of Education. "Instead of staying home, they [students] come, they eat. The facility is so good," he says. "It should be replicated. It should not be limited to Otinibi alone. It should be extended to other places."