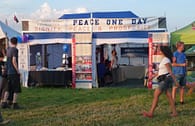 From its humble beginnings on a Glastonbury Festival stage in the UK in 1982, WOMAD (World of Music, Arts, and Dance) has expanded to become a worldwide celebration of culture, diversity, and music around the world. Its vision has always been to foster a sense of global citizenship through the inspiration of music from different cultures.
In July 2014, a group of volunteers for The Prem Rawat Foundation (TPRF) put in a bid for an information booth at the UK WOMAD 2014 festival, which was held in Charlton Park, Wiltshire, a quintessentially English country landscape.
Says organizer Howie, "We chose WOMAD as a suitable event at which to raise awareness of TPRF because of its ethical foundation and its vision for a more peaceful world through music."
A photographic exhibition showcasing TPRF's Food for People (FFP)program was staged in a large canopy bought by the local team through festival ticket sales. A rolling video presentation on a large screen introduced visitors to the lively footage of Lunchtime in Bantoli, a video of children at the FFP facility in India.
Over the course of the three-day festival, about 100 people visited the canopy, raising awareness about TPRF's programs as well as the upcoming Peace One Day initiative. One lady visiting from South Africa was moved to tears, saying, "It's so nice to see people doing this sort of thing because my country is in such turmoil."
Volunteers so enjoyed being involved in such an exciting and world-class event that plans are now underway for WOMAD 2015, with an outreach potential of 30,000.