Food and supplies were recently distributed to disabled neighbors in need at the Food for People (FFP) facility in Bantoli, India. The COVID-19 crisis has exacerbated hunger issues and 100 disabled and elderly people in the Bantoli area were provided with free rice, lentils, potatoes, masks, and more. The supplies were delivered to the homes of those who couldn't pick them up.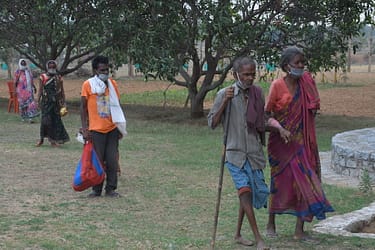 Normal food services at the FFP facility are currently paused due to local regulations to stem the spread of the virus. 
In the meantime, The Prem Rawat Foundation is finding other ways to help people in India and around the world. 
TPRF recently provided a $75,000 grant to Americares India for prevention supplies and essential medical equipment across 10 states, including ventilators, oxygen tanks, concentrators and pulse oximeters.
Another humanitarian grant to help people in India will be announced soon. 
You can donate to these efforts here, and follow the different ways TPRF is helping people during the pandemic here.
Thanks to all of you who are making this aid possible.
See coverage of the FFP deliveries by the Morning India newspaper, and photos from the effort, below.