With the long wait over for the arrival of key equipment, the construction team in Ghana began tackling the final tasks necessary to open the Food for People facility in Otinibi.  Here is Kafui Esi Adjei's report on the day-to-day events leading up to the historic inauguration of the third location for TPRF's unique and highly successful feeding and education program.
We have had several guests visiting the facility. The Chief of Otinibi, Nii Adjei Kweidzamansah III, and his entourage came to the facility to have a taste of the favorite and delicious local dish "Ga  Kenkey" served with fried fish and hot pepper sauce.
Ga Kenkey is a staple food in Ghana made from corn/maize dough kneaded into a ball and then wrapped in a corn husk.  After boiling Ga Kenkey for about an hour and a half, it is usually eaten with meat, chicken, fish and soup dishes accompanied by a hot pepper sauce seasoning.
The District Chief Executive, the political head of the district, Honourable John Kwao Sackey, also came with the Assemblyman for the area, Honourable Adams Thoro. The head of the nutrition department of the University of Ghana was also there with her team on three different occasions as part of a base line nutrition study underway at Food for People Ghana.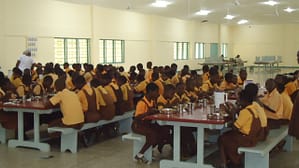 The baseline study is a research project designed to gather statistics on the school children's health status, school attendance, performance in class, and other related statistics. These benchmarks will be gathered before the feeding program begins. The same statistics will be gathered periodically after FFP Ghana opens.  By comparing the original benchmarks to the statistics gathered over time, the baseline study will reveal the impact the feeding program is having on the children in the community.
On May First it will be exactly a year since sod was cut for the beginning of the project. It is really amazing how things can move very fast. Finally, the long-awaited coolers arrived in a van after the close of work on Tuesday, April 3rd. By the end the next day, the coolers had been fully assembled. After installing the refrigerator piping system, the construction team tested the coolers for over a week and the system checked out fine.
Everybody is happy for the arrival of the coolers, so we are ready for the inauguration of the facility. We anticipate feeding 450 people including invited guests at the inauguration.  We expect the opening ceremonies will happen between May 15 and May 22. From then onwards, we will be feeding about 500 people every day.
Photos by Francis Ahore