There is a road—the first road built between Nepal and India—that winds like a ribbon through the foothills of the Himalayas. Turning off this road takes you to Nepal's Tasarpu Food For People facility.
In the cool early morning, the site buzzes like a hive. Children arrive from all around, walking the last few yards up to the facility. Girls, boys—all ages—coming for a well-balanced, hot nutritious breakfast.
Do you want to know how your contributions help?
One picture says it all.
I saw this little girl walk into the dining room. Most of the others had come with friends or relatives, but this girl entered alone.
After the routine of washing and queuing, she settled in her space to eat. I was captivated by her. She didn't notice me, but I watched as she worked her way through a small mountain of food she had built on her tray. She ate and ate and then lifted the tray to her mouth to get every last grain. This is the scene I captured:
Zoom in on her jeans. The holes have been embroidered with pink cotton thread. Each embroidered hole is an "I love you" from her mother. The girl's clothes are slightly dirty, probably because, after this meal, she has to work.
All through breakfast, I couldn't take my eyes off her. It seemed to me that she had responsibilities and was a little serious. Having been with her for only a few minutes, I watched as she disappeared through the door, knowing that on this morning she left with more than a full belly.
On this morning she left with my heart.
That is the difference you've made in one girl's life. Multiplied, the effects are stunning.
After breakfast, the headmaster took me to see the local school. Each class was crowded with eager students. Girls are going on to high school now, which was unheard of before the Food for People facility was operational.
Until FFP opened, there was no food for the children at home, so they had to work in the fields, breaking stones. Or in hotels, washing floors. The dropout rate was high. Today, 99% of the children attend school and have hope for the future.
Your generous funding is now enabling the school to construct four more classrooms to accommodate the increase.
What you do makes a profound difference in people's lives.
This visit has been one of the most beautiful experiences of my life.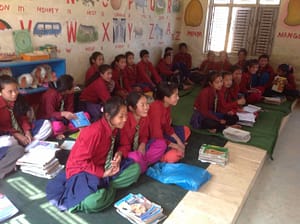 Photos by Juli Hammersley