Peace Education Programs have been running in the Johannesburg Correctional Facility since August 2013. They are being held in the Female Correctional Facility, Medium B for short-term sentences, and Medium C maximum security for long-term sentences. So far, 430 inmates have completed the courses.
"The effect on inmates has been extraordinary to witness," says Anne Wolfson, Manager of the Peace Education Program (PEP) in South Africa. "In the women's prison, one young lady came to the first session of the course, drained of all color and with no emotion on her face. She looked like someone who had given up on life. At the end of the first section of the DVD—the first time she had ever heard Prem Rawat speak—color came back to her face, her cheeks became rosy, her eyes sparkling. After the tenth session, she told me that she only has one wish in her life now: that one day she would have the chance to see Prem Rawat and say thank you to him. The program gave her a backbone."
"Another lady had had a good husband and a comfortable life," says Rama Vallabh, who coordinates the PEP at Johannesburg Correctional. "But she ended up in prison after going down a wrong track. While in prison, her husband developed a tumor and passed away. She was unable to care for him in his last days or to attend his funeral. Some time elapsed, and then she enrolled in the PEP course. She expressed so strongly how this course had helped her come to terms with all that had happened in her life."
Valee Prema is the facilitator at Medium B. She has now run four courses in an environment that is less than perfect. Her class of inmates has to share a room with another class going on at the same time. "But it hasn't been a problem," Valee relates. "The concentration has to be so strong that the inmates really respond to the message."
Valee particularly remembers a course she helped with last year. She explained that on the third session, the inmates arrived for the PEP class only to find that the neighboring class had claimed all the benches to sit on. The situation became tense when it was clear that the PEP attendees wanted to take back the benches, even if it meant a fistfight.
Then one participant, Daniel, stood up and addressed his classmates. "We are not going to argue with them," he said. "We are doing this course, and we need to put into practice what we are learning. Prem Rawat told us to stay in harmony and understand what we do. So let's all go to our cells and get our buckets. We are going to sit on them." And that's what they did.
"Each one of them was so happy, sitting on his bucket," said Vallee. "It brought tears to my eyes." Since completing his course, Daniel has been acting as a helper with other PEP courses in the prison.
Speaking at the conclusion of his course, Daniel had this to say:
"Allow me to express my utmost gratitude to Mr. Prem Rawat. The Peace Education Program is the Mamma Mia of all courses. What we have learnt will remain inside our hearts like words on an epitaph." Then, alluding to the facilitators, he continued, "Guys, you are eloquent, classy, and you gave an unwavering commitment to this program and to ourselves. You were aware that our liberty has been removed from us but not our humanity. You removed all our salts—all criminal-related thoughts such as murder, rape, robbery, and many more—and replaced them with sugar, wonderful sweet-tasting stuff such as hope, joy, harmony, peace, dignity, self-awareness, fulfillment, and contentment."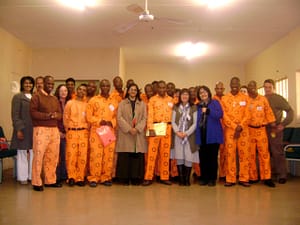 Note: Photos are not from this PEP workshop.