On November 16-18, 2014 the prestigious Indian School of Business (ISB) in Hyderabad, India, hosted a three-day international conference to discuss key concerns involving peace and maritime issues that affect India and the ASEAN region (Southwest Asian Nations). The conference was titled Peace, Prosperity and Progress through the Sea.
Event host, Professor Yoga Jyotsna, welcomed high-ranking military officers from India's Department of Defense Services, including several admirals and air marshals, as well as staff members.
Vice Admiral Pradeep Chauhan, former flag officer and commandant of the Indian Naval Academy, gave the inaugural speech to over 350 delegates. Setting the tone for the conference, Admiral Chauhan seamlessly connected the topic of individual peace to the wider issues of national and international peace by posing the question, "How is the desire for societal, economic, and material prosperity of the teeming millions of human beings in Asia to be married to the intangibles of universal peace and goodwill that makes us human in the first place?"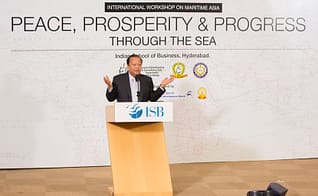 Developing the focus on peace, Prem Rawat asked the delegates to consider peace not simply as a question of the avoidance of war or violence, but of individuals discovering their own personal peace. He suggested that if enough individuals can be at peace, it would have an effect on the human race in general, bringing about a material change in humanity's well-being.
He remarked that we are experts at finding differences and divisions between us but very poor at finding common ground. He gave the example, based on over 40 years of international travel, that no matter what language we speak, we talk about the same things. By focusing on our similarities, he said, we can bring people, societies, and countries closer together.
Highlighting the huge cost of the lack of peace in our world, a recent report entitled The Economic Cost of Violence Containment, published by the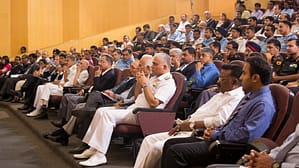 Institute of Economics and Peace, pointed out that the cost of global violence comes to US$9.46 trillion per year, equal to 11% of the world's global GDP. A reduction of just 2.5% in global violence spending could pay for all the Millennium Development goals, including eradicating extreme poverty and providing clean water, sanitation, and universal primary school education for the poorest of the world.
Prem Rawat noted that while widespread greed is causing an imbalance that results in the failure to address growing poverty, peace could change this equation. Over the next few days, conference members continued to explore the link between peace and the goals of prosperity and greater maritime security for all.