Prem Rawat recently received a warm welcome in Soweto, South Africa, where he spoke to hundreds of participants in the Peace Education Program (PEP).
Soweto is an historic black township in the city of Johannesburg with a complicated past. The home of civil rights leaders such as Nelson Mandela and Desmond Tutu, the community played a key part in the successful struggle against apartheid. However, the destructive legacy of segregation lives on in the form of poor infrastructure, overcrowding, unemployment, poverty, and violence.
The South African Department of Social Development has the mission of helping the poor and vulnerable secure better lives in the community. In recent years, the department started offering PEP and both facilitators and participants report that the program is making a positive impact.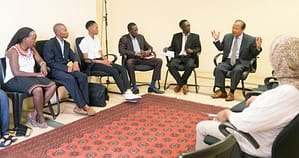 At a December 2nd forum on peace arranged by the city of Johannesburg at Dlamini Hall in Soweto, Prem Rawat held a roundtable discussion about the program with some of the facilitators. One person, who offers PEP in local schools, reported that "it's changing student behaviors. It's changing their whole lives. I've heard stories from thankful family members who've said that their relative had problems for years until the program helped them readjust and focus on appreciating their life." Another facilitator commented: "We've seen how it's influencing people and how the hunger for the program is growing."
Prem told them that he would work in partnership with The Prem Rawat Foundation (TPRF) to give them the support they need to continue expanding the program. "Thank you for all the good you're doing, for all the lives you're changing," he said.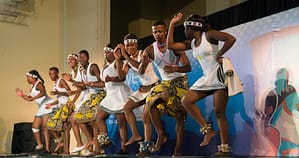 Later that day, he delivered the keynote address at the forum to more than 700 attendees—about double the number of people who attended a similar event in the area last year.
"The Peace Education Program is not only changing lives in South Africa, but all around the world, because it addresses you as a human being. Who are you? If all you see is your problems, you will not know who you are," said Prem. "Where is peace? Is peace on some mountain? No. It is in the heart of every human being. The heart is the place in a human being where courage resides—the courage to change from darkness to light, from hate to forgiveness."
Throughout the remainder of his remarks, Prem used a range of stories and metaphors to urge attendees to harness their own innate power to cultivate a sense of freedom, clarity, love, kindness, and peace in their lives.
It was a message that resonated with Debbie Raphuti, a member of the South African Parliament, who took the stage shortly after Prem. "Thank you very much for your powerful message about the choices and the power we carry as people," she said. "I think all of us today have the power to choose peace. Let's choose peace. I'm choosing peace. We should not be afraid. We should have inner peace with ourselves. We've got the power to change society." Debbie later volunteered to become a PEP facilitator herself.
The speeches were intertwined with a range of beautiful musical and dance performances, including a "poem for peace" and a war veterans' choir.
In the hours and days that followed, many in attendance gave wonderful feedback about PEP and the event.
"After going through PEP, I realized that the most important thing in life is to appreciate the breath that is keeping me alive every day," said Kabelo Padi.
"The event was mind blowing, and Prem's words were so inspiring," added Pontsho.
And Matlakala commented, "I have learned to have peace inside me, and to love myself and respect others."
Prem Rawat's recent visit to South Africa also included an event with students at TSiBA, a nonprofit business school in Capetown.
Looking ahead to the new year, TPRF plans to continue to strengthen its partnerships with the city of Johannesburg and other organizations in the area so that PEP can be offered to more and more people.