Bruce Keenan serves as Treasurer on The Prem Rawat Foundation's Board of Directors and as President of Himalayan Children's Charities. He recently visited the Food for People (FFP) facility in Nepal for the eleventh time since it opened in 2009. In this interview, Bruce shares observations about FFP, earthquake recovery efforts, and other developments.
(This is part two of the interview. Check out part one here.)
The FFP kitchen recently doubled the amount of children to whom it serves daily meals. Is the new effort to deliver lunches to children who can't make it to the facility themselves going well?
It's going well. TPRF actually has a new video in the works that will show the positive impact the lunch deliveries are having on children.
Everyone involved wants to try to get as much utilization out of the FFP facility as possible. It was designed to produce 5,000 meals a day and it's not operating at capacity. We'd like to explore the idea of delivering food even further up the road to people. Of course, the trick is keeping it absolutely safe, healthy, and sanitary. All the options are being explored at this point.
Going forward, what are the biggest challenges facing the communities served by FFP?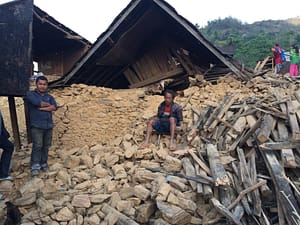 It's mostly housing. The biggest challenge for nearly all of the villagers is to get their living situation stabilized, to get a good roof over their heads—to rebuild their houses. Almost every house was damaged or destroyed by the spring earthquakes.
It's a big challenge to try to figure out the best ways to help these folks. How can houses be built affordably and sturdily, so that when another earthquake hits they don't fall down and kill people?
Did you get a sense from people that there's still a lot of concerns about ongoing aftershocks?
Yes. There's a lot of fear about being inside buildings that are cracked. There's a lot of fear that more earthquakes could hit and cause even more destruction.
Were there any aftershocks while you were there?
One, but I didn't feel it. I think I was in a car. The tires insulated the small shock.
Any thoughts on how TPRF can best work in the months ahead to continue helping with the recovery process?
We're working with our partner organization on the ground, Premsagar Foundation Nepal, as well as with local leaders, to determine the best options and projects, but we're not ready to announce them yet. We still have about $40,000 in our earthquake budget, and we want to make sure we spend it the right way.
We feel really good about how the first $200,000 was spent. It was used in a very efficient manner, and it was used for the highest good. We want to make sure that the additional money meets the same criteria.
Is there anything else you'd like to say to TPRF supporters about the situation in Nepal?
I want people who are donating to TPRF to know that the Foundation is being a good steward of their donations. We're making sure that all their funds are properly spent. Money's not being wasted.
Every time I see the kids and the villagers, I feel a huge sense of their gratitude. The kids realize that they wouldn't be in school at the upper grade levels without having FFP there.
During previous visits, I talked to some of the local mothers through an interpreter. I remember this one mother who said, "I used to only feed my daughter bulgur," which is a kind of grain. I mean, breakfast, lunch, and dinner, that's all she had. "That's all we could afford—just grain. Now, my daughter's getting a nutritious meal, and it's balanced," she said.
Now she knows that her daughter is getting at least one meal a day that's really good for her. She said that the free meal allowed her to save enough money to buy her daughter a writing book and a pencil. The moms that I've talked to are all just so grateful that Prem Rawat decided to put that facility there.
I would also say that all the Nepalis I came across on my most recent visit were especially grateful for the support that the Foundation is providing for earthquake relief. They've been through a traumatic disaster. Imagine if the very ground beneath you—that you think is stable—starts shaking violently, destroying your home, killing loved ones. You really don't know where to turn for your physical safety or a sense of well-being.
I think that the people in the U.S. and around the world who donated to help them really helped restore their sense of security.