Inspired by the idea that teachers can lead the way toward peace from the classroom to the communities, the Department of Education of Mumbai University sponsored the Peace Education Program (PEP) for board members, administrators, professors, and students as a positive contribution to the growing movement to develop a culture of peace.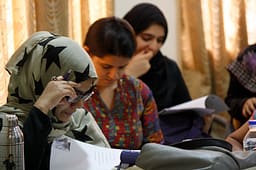 This PEP was specifically organized for Masters of Education students and PhD scholars to equip them with a foundation in peace that they could carry with them when they begin teaching at different schools. Mrs. Rakhi Giriraj Dhingra, a research scholar who specializes in peace education, explained that if teachers understand the value of peace in their own lives, they will be able to help their students understand it as well.
One of the participants, Dr. Indu Garg, Associate Professor in the Department of Education, commented during one of reflection sessions, "In the 25 years I have been a teacher, I have never seen any program in this department do what PEP has done by bringing clarity on the subject of peace!"
When the workshop was completed, university board and senate member Dr. Sunita Magre, who had conducted PEP in the Mumbai University colleges of Medicine, Engineering, Education, Science, and Commerce, said she found the program very effective and would recommend it to other universities in India as well. Established in 1859, Mumbai University is one of the oldest and most esteemed universities in India. It received "A" grade status in April 2012 from the National Assessment and Accreditation Council and is considered to be one of the top five universities in the country.
Following is a poem written by a participant in this class: