The Prem Rawat Foundation (TPRF) recently sponsored a forum that brought together hundreds of chiefs, kings, and government officials in the West African nation of Côte d'Ivoire to consider the theme of "Traditional Wisdom in Service to Peace."
In the decades following its independence from France in 1960, Côte d'Ivoire was known as one of the most stable and prosperous countries in the region. But the last 15 years have been marked by civil wars and terrorism.
The August 20 event at the Palais de la Culture, located along the banks of the Ébrié Lagoon in the city of Abidjan, focused on cultivating reconciliation and long-term peaceful solutions. Supported by the Governor of the District of Abidjan and organized by the local NGO Association of Initiatives for Peace, it featured speeches from several national leaders, a question-and-answer session, and a keynote address by TPRF Founder Prem Rawat.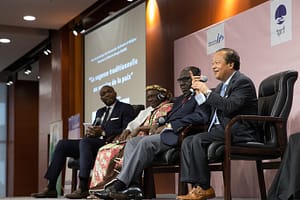 He emphasized that personal peace is the strongest foundation for building peaceful communities and nations.
"Practice peace in your own life. Peace is a feeling inside of you. Peace has to be real, not just words, not just concepts," said Mr. Rawat. "Peace is a need, not a want. Without peace, there can be no prosperity. Without peace, society will fall apart."
Lambert Gbizie, Vice President of the Chamber of Kings and Chiefs, also discussed the inherent human desire to live in a state of peace and urged the gathered royalty to harness traditional wisdom to help make that possible.
"Peace is a quality which everyone seeks. It is the desire for harmony between all people, between all of the social, political trends. It should not be limited to a declaration of intent but translated into action in our daily lives," he said. "In traditional African societies people developed mechanisms to prevent any action that would compromise peace. When conflict occurs, local strategies must be developed that result in a sustainable reconciliation."
Responding to a question about how to gain wisdom, Mr. Rawat told attendees that wisdom is an innate human quality.
"You don't acquire wisdom—you have wisdom. Wisdom doesn't come from the outside. Wisdom is in you. Nurture it. Whatever you practice the most, you are going to get good at. Do you practice wisdom? Do you practice peace? That's how you become wise," he said.
The speeches were punctuated by traditional musical and dance performances.
In recognition of Mr. Rawat's 50 years of peace advocacy work around the globe, Mayor George Ezaley proclaimed him an honorary citizen of the ancient former capital city of Grand Bassam.
The Chamber of Kings and Chiefs also designated Mr. Rawat as an honorary chief and the Governor of the District of Abidjan bestowed on him a special traditional name: Nanan Akossi. The name has its cultural roots in the Akan tribes of southeastern Ivory Coast and signifies a life of great courage. As part of the naming ceremony, representatives of the chamber dressed Mr. Rawat in traditional royal attire, wrapping colorful robes and beads around his suit.
The newly titled chief expressed great appreciation: "This is an honor and a privilege. I am a human being. And to be honored from Africa is truly an honor because this continent is the birthplace of humanity."
Numerous media outlets across the country covered the event, and Ali Diarrassouba, a popular TV personality, emceed.
"I hope that this conference will help bring a lasting climate of peace to all of the communities represented here," said Mr. Diarrassouba.