On October 12, Prem Rawat met with students who are participating in the Peace Education Program (PEP) at Taylor's University in Kuala Lumpur, Malaysia.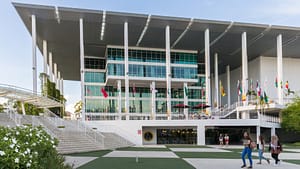 Last year Taylor's became the first institution in Malaysia to offer PEP, and administrators have praised the program for helping the school fulfill its holistic mission of enriching student's minds, hands, and hearts.
In his talk to students and faculty, Prem reinforced several of the same themes that are emphasized in the PEP workshops, encouraging people to tap into their own sense of inner strength as they navigate life's challenges. He urged students to try not to let the problems they encounter derail their efforts to feel peace. He used the example of how a baby learns to walk to highlight the difference between failing and accepting failure in life.
A baby doesn't give up after stumbling, he noted. "When you fell, you didn't say, well, 'that's that.' You failed, but you didn't accept failure. You kept trying, and finally you started walking. And when you started walking, that was no ordinary feat, because in that moment you unlocked the whole world: now you could go wherever you wanted to go. You gave yourself freedom!"
Every person has good and bad in them, he said, and through a mix of stories and metaphors, he stressed that choosing to feed the good lies at "the core of emotional strength, physical strength, mental strength, and clarity."
"That's what living this life without accepting the failures is about—to consciously make a choice. To understand that the possibility of peace is here with you—always has been, always will be—that the peace is inside of you," he said.
Prem also met with several of the PEP participants and held a lively question and answer session, discussing everything from The Prem Rawat Foundation's food aid program to the meaning of true happiness and how to cope with the loss of loved ones. Afterwards, several attendees commented on how insightful and inspiring the event was.
"He reminded us that we are human beings. Being alive is something very special, and it is the most valuable gift," said Taylor's University student Saw Kai Xuan. "The peace is within us all the time. We have the power to make decisions and gain clarity."