This year marks the 10th anniversary of the Golden Garden Party, an independent fundraiser for The Prem Rawat Foundation (TPRF) that Ron and Rachel Clearfield are hosting on their beautiful property near Asheville, NC on June 4.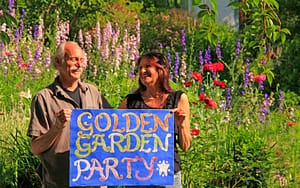 The event will feature a variety of musical performances and a Nepali feast amid the Clearfield's garden of blooming flowers. Past parties have raised more than $50,000 for the TPRF Food for People program, helping pay for thousands of impoverished children to receive daily nutritious meals in Ghana, India, and Nepal. The Clearfields are hoping to add more than $10,000 to that total this year.
"On behalf of all of the children who have benefited from the parties over the years, and everyone at TPRF, we extend our deepest gratitude to Ron, Rachel, the sponsors, contributors, and volunteers who make this event possible," says TPRF Development Director Marci Klein. "I'm looking forward to coming to this year's party!"
Local media outlets are supporting the cause with a wealth of coverage that will likely boost attendance. Here's an excerpt from a recent interview with Ron and Rachel in the Asheville Citizen-Times:
"Ten years ago we felt like, 'What more can we do with our lives?'" Ron Clearfield said. At the time they were just hitting their 60s, with their three children grown and gone, and "we had this beautiful land and wanted to do something" to share their blessings.

"I always like that quote of Lee Iacocca," Ron said. "There are three phases in life: Learn, earn and return."

Rachel said that sharing her garden for such a vital cause is "such a gift to me."

"Being a grandmother, I've just fallen so much in love with little children, especially the little ones, the same age as my grandchildren," she said. "When I think of them, I think of all children, and those poor children in Syria and those children in different places that are still suffering. I just want this to get bigger and bigger and bigger, you know? And it just means so much to my heart."
Supporters who can't be at the party in person can still participate by buying raffle tickets. Winners are eligible for more than $2,000 worth of goodies, and all proceeds from the raffle will be matched by anonymous donors and given to TPRF.
Visit the Golden Garden Party website or see the poster below for more details: