Jyoti Singh is a Human Resources professional with over 15 years of experience managing a wide spectrum of HR functions, projects, and programs. Currently based in Bangalore, India, she is a Peace Education Program (PEP) volunteer, facilitating and coordinating PEP activities in Southern India. She also provides support to volunteers across India to start PEP in their regions.
There are more than one billion young people in the world today. That is a formidable force. If we are to have any hope of establishing a culture of peace around the globe, their interest and support is needed. I'm happy to report that—judging by the attitudes of students who recently participated in the PEP at several higher education institutes in India—there is a lot of enthusiasm for peace among youth.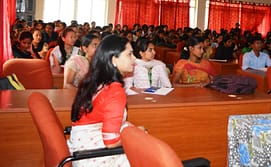 At Bangalore's state-of-the-art National Institute of Mental Health and Neuroscience (NIMHANS), 320 nursing students completed the PEP. It is always touching to hear participants express themselves during the workshops and talk about what they learn from the videos of Prem Rawat's addresses that are included in the course.
"As a nursing student I learned that brain and heart function are essential for the human body," one of them said. "But after going through the PEP I'm happy to know, as Mr. Prem Rawat says, that the heart is not only an organ, but is also a place to feel true joy and peace."
Approximately 215 engineering students and staff at Sambrahn Institute of Technology also participated in the PEP. Some expressed that the modern world is becoming smaller, more integrated, and technologically advanced. But they also worried that the world is becoming more fragmented and less peaceful. In PEP videos, Prem Rawat's message focuses on the preciousness of human life, the gift of breath, and the possibility of fulfilling the thirst for peace. Several attendees said they felt his message is needed now more than ever. When their PEP ended, a few of them offered to join our team of volunteers to help facilitate the class for others.
At Christ University, several participants also offered to volunteer. We started the first PEP workshop there in the afternoon, but faculty members asked us to move the class to the mornings because they said it helped them feel calm and focused. "We feel it would be a good way to start our day," one said. We were happy to oblige.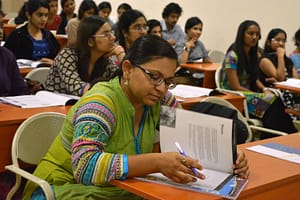 Students at Picasso Animation College, who are immersed in creativity and imagination, expressed many thoughts about how the PEP enriched their perspective. One student said, "The best of part of Mr. Rawat's message is that it does not belong to any religion; it belongs to humanity. It has reinforced my faith in humanity."
Another said, "I have understood that I am the person who can solve and answer all of my problems. He has introduced me to me, and I am so thankful to him for this."
As a volunteer, it is heart-warming to see how PEP courses are making a great difference in the lives of youth. When we start offering the PEP in colleges, some students say, "Why is peace education for us? It is our time to party, not to know about peace." But as the class progresses, the message often touches their hearts, and their outlook changes. It's a joy to watch this happen. Hopefully they find that the process of discovering inner peace is the greatest party of all.