Bobby Hendry oversees meal planning, hygiene, and staff service procedures for the Food for People facilities currently operating in India, Nepal, and Ghana.
An Interview with Bobby Hendry, Head of Catering.
Q: How did you become involved with the Food for People (FFP) facilities?

A: Prem Rawat asked me to help set up the kitchens with a high standard of nutrition and hygiene. He gave me an initial brief and then regularly checked and made ongoing suggestions on many aspects of the planning.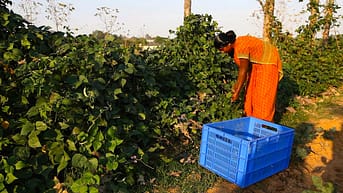 In Bantoli, India, I worked with architects, specifying materials for the buildings and sourcing equipment for the kitchen and dining room. I interviewed and trained staff, with a focus on health and safety needs, and I developed the menus.
One aspect of planning was to find good flooring throughout. I wanted to use something that would not show the dirt, even at the busiest times of the day, but be non-slip and easy to clean. The architects suggested a dark grey Indian stone. I was skeptical at first, but it proved to be amazing. It just needs chlorinated water and mopping to clean it. The floor shines as if we were using an industrial polisher.
Q: What is the most important element that makes these facilities so successful?
A: I would say it is Prem Rawat's vision for the program.
The facilities are for people in need—children and the infirm elderly. The meals are all local dishes prepared with fresh produce. Meals have to be balanced, including vitamins, minerals, and carbohydrates to ensure a full daily calorie count is served to everyone.
In Nepal and India, the meals include rice, roti (a flatbread), dhal (a curry of legumes), subji (mixed vegetables), pickle (fruit or vegetables marinated in oils and spices, to give an extra kick, if desired, to the meal), and sometimes a sweet.
The kids can go back for seconds if they want. When I first saw them eat, I thought that even a full-grown construction worker would be laid out by the size of the portions.
Q: What is unique about the FFP facilities? And what changes have you seen in the children and local community since your involvement in the beginning?
A: At first I did not really understand the full impact the facilities would have. It only hit me after they had been open for a couple of years. I was going to visit the facility in Bantoli, near Ranchi, to check on all the standards. Mr. Rawat suggested I make a surprise visit so I would see the daily routine and that I could also visit and talk to people in the local community to gather information on what could be improved and how the people saw the facility.
So I went…
The area around the Bantoli facility has a timeless quality. You know when you are looking around that you are seeing a scene that has been repeated daily with very little change for thousands of years.
All day, because of the heat, you see unhurried people walking across the fields, cowbells tinkling, goats and cows grazing with turbaned herders, leaning on their tall sticks. There are farmers and women bent over tending their fields; indistinct conversations of the field workers floating on the still, hot air; straight-backed women walking with bundles of sticks on their heads for their cooking fires; others walking to the market or their work—some on bicycles, but no cars. It is a poor area with very little extra food.
To be continued. Come back next week to see what happened.