Thanks to the volunteers who presented the Peace Education Program at recent Canadian justice conferences and who wrote this article about their experience: Annelies Bertsch, Marielle Comeau, Anne De Lorimier, Nicole Huron, Michel Klamph, Berthe Provencher.
Late last year, our team of Canadian volunteers presented The Prem Rawat Foundation's Peace Education Program at two national conferences held by the Canadian Criminal Justice Association (CCJA) and National Restorative Justice Symposium (ACJP). The two organizations attracted a distinguished group of scholars, judges, government representatives, politicians, and criminologists, many of whom were thrilled to learn how the Peace Education Program can aid their efforts to help people.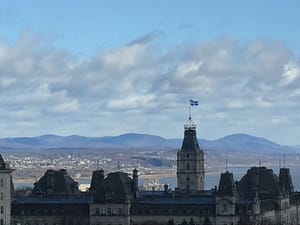 First we attended the biannual conference of the CCJA, which was held this year in conjunction with the Société de Criminologie du Quebec in the beautiful and historic Quebec City, Canada. The variety of plenary sessions, films, research, and services to support victims and perpetrators in a humane and restorative manner was obvious throughout this conference. The conference celebrated 100 years of criminal justice—with the emphasis on justice. It was a celebration of forward-thinking to support research and initiatives that help people make conscious changes and remember their common humanity.
In this context, the Peace Education Program fit in well because of its proven ability to help participants make better choices and live more fulfilling lives.
We were offered an exhibit of the Peace Education Program in the main foyer of the hotel. We were ideally placed among the 450 delegates, and we had a steady flow of them stop by our exhibit to talk to us about how they might integrate the program into their initiatives. We also attended the plenaries and workshops, further helping us connect with both presenters and delegates. They warmly welcomed us and appreciated the role that the Peace Education Program can play within the criminal justice community.
The National Restorative Justice Symposium then took place in Banff, Alberta where one volunteer represented the Peace Education Program. The theme of this national conference was "Diverse Perspectives, Meaningful Solutions," with delegates from across Canada, Germany, Brazil, and New Zealand. The conference offered a rich opportunity to meet and establish partnerships with people who are committed to restorative justice, reconciliation, amnesty, and truth. We were able to present the Peace Education Program to a receptive group of professionals and volunteers.
Attending criminal and restorative justice conferences helps the Peace Education Program grow and gain international recognition for how it improves lives. The people at these conferences are very passionate about their work and we appreciated being able to introduce many of them to how the program can be integrated into their efforts to help people. 
One of them is a Canadian senator who has spent much of her career involved with the corrections community. After she spoke at the Quebec conference about prison reform, she and her parliamentary assistant requested and received the Peace Education Program materials for their review. Another attendee we met is now planning to become the first Peace Education Program facilitator in the rugged northwestern territory of Yukon, offering the workshops to disadvantaged youth.  
We also met a professor from a Calgary university who is now planning to show "Inside Peace" at his international speaking engagements about prison reform, including an upcoming event at the University of Bhubaneswar in India. "Inside Peace" is an award-winning documentary film which is sure to help make a splash at his events by highlighting how the program transforms the lives of Texas inmates.
Our volunteer team is continuing to follow up and build the connections we made at the conferences. We look forward to seeing more of the great people we met start offering the course in their organizations and communities.
Learn how you or your organization can start using the Peace Education Program to improve lives.