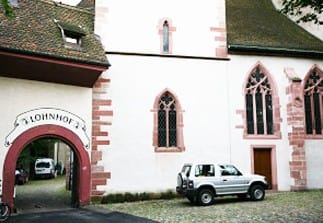 When Richard Douglas and his wife Carolyn first settled in Alsace, France, from the UK, they were advised to join Centre Point, an association of expats just across the border in Switzerland. This provided an ideal opportunity for the Centre Point members to discover the TPRF Peace Education Program (PEP).
What do you do when you relocate in a country where you do not speak the language? That was the situation Richard and his wife Carolyn faced when they moved from the UK three years ago to a little village in the northeast of France within walking distance of the Swiss border and very close to the city of Basel.
Many big pharmaceutical companies have their headquarters in the area, and there is a large international community using English as a common language. Richard and Carolyn were able to connect with this community by joining Centre Point, a non-profit organization located in a beautiful historical building in central Basel that offers many social activities such as learning languages, parenting skills, wine tasting, and more. A retired educator himself, Richard was happy to offer the PEP to the members of Centre Point. Facilitating a PEP, he says, is very simple: "You just show a DVD and let people reflect on the content."
After an initial round of the curriculum, which ran from February to May 2013, a second started in September, and Richard was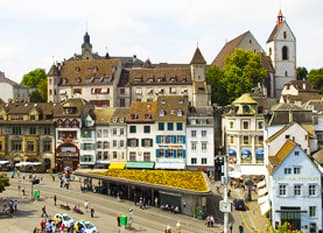 happily surprised when he saw that the initial ad had been slightly changed from a neutral refererence to "Building Inner Resources" into a positive endorsement: "Centre Point is proud to offer this very popular workshop once again." As committing for ten weeks in a row is not easy, this time Richard and his wife were helped by two other volunteers, Rebecca Trutmann-Ohligs and Walti Planzer, who both enjoyed the experience and hope to participate in other PEPs in the future.
Eight people on average, including the facilitator and his assistant, participated in the sessions. It was quite an international group that attended the two PEPs in the Centrepoint library—American, Chinese, Taiwanese, Bulgarian, Egyptian/Swiss, New Zealander, Slovenian, Swiss, Danish, French, and English— all using English as the common language.  "It was a nice cross section of people across all age groups," says Richard.
In the two groups, the participants have written some beautiful expressions such as: "The peace is in yourself; what you need to find inner peace is already in you—prepackaged!" or "I do appreciate my life and my breath a lot more." They also enjoyed sharing more expressions, such as "I feel a lot calmer and a lot stronger within myself."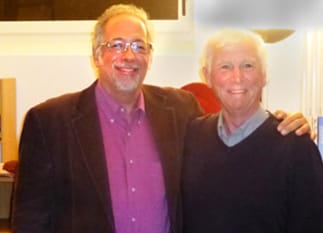 Of course, PEP addresses a quest to know oneself and may not appeal to everybody. In each of the two groups, there was indeed one person who was slightly cynical at first. However, week after week people came back, and witnessing them relaxing and transforming as they watched and listened is a beautiful experience, says Richard, "At the end, what all the participants said was 'Thank you, this is really great.'"
More feedback such as: "Great course, it really made me think about the themes," "I am truly thankful for this program and have enjoyed every session," and "How we forget in our lives, the most important things…" made running the courses really worthwhile.
The Peace Education Program, which is in its early stages, has a bright future.