Prem Rawat keynote speaker at 2014 Water and Food Awards
On June 18, 2014, Prem Rawat was the keynote speaker at Central Hall, Westminster, London, for an event sponsored by the Water and Food Foundation (WAF). WAF promotes global best practices in water and food security initiatives.
Each year since 2008 when it was founded in Copenhagen by Tina Lindgreen, WAF has presented their Water and Food Humanitarian Award to NGO organizations that have initiated the most innovative, sustainable, and replicable projects to provide food and water to those most in need. TPRF Founder, Prem Rawat, was Patron of the 2014 award ceremony along with HRH Princess Basma bint Ali of Jordan.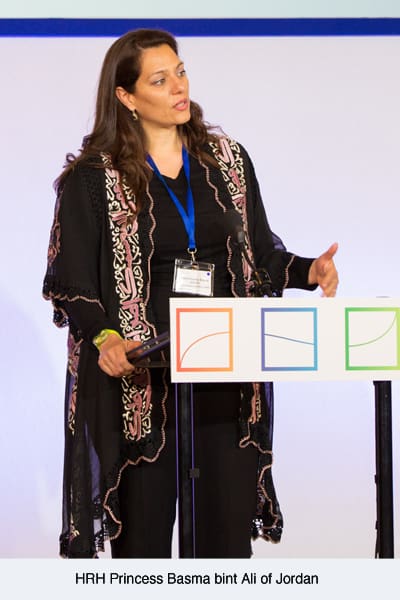 According to the United Nations World Food Programme, 842 million people did not have enough to eat in 2013. Yet never in the history of mankind has food production been as efficient and productive. With a quickly rising world population (2-3 billion by 2050), the need for action is urgent.
WAF aims to highlight that enough food and water is available on the planet to adequately sustain everyone. The challenge is access to these human rights. The WAF Awards celebrate groundbreaking initiatives run by recognized and exceptional pioneers across the globe to improve access to food and clean water. One such initiative is selected each year to win the prestigious WAF Award.
The winner of the 2014 award was the African Centre for Holistic Management from Zimbabwe, chosen from what was described as a tough competition between five finalists and their pioneering initiatives to put food and water on the table and empower some of the most challenged communities in the world. "In reality, we are not facing food shortages, but the issue is distribution," said WAF founder, Tina Lindgreen, adding that there is a need to share best practices and sustainable solutions that could help change the situation.
Describing a broad vision, Prem Rawat told the audience, "All our efforts, whether they are sustainability, to feed the hungry, to bring clean water–in our own little way, we want to create a little heaven right here on earth. And who will ever blame us for thinking so wildly? Because it is a wild vision to want to create a little heaven for us and our fellow beings; and to leave a legacy of that heaven for the generations yet to come, so they keep on living the dream of creating the little heaven in their time, for their time ahead."
Prem finished by applauding everyone present for their efforts and was, in turn, given a standing ovation by the audience. An video excerpt of his address can be seen below.
According to one attendee, John Carpenter, a long-time supporter of TPRF's Food for People program, "The warm feeling of unanimity created by the keynote address was best expressed by a member of the Zimbabwe team who won the 2014 WAF award. He told me, with great humility, that for him the real prize was to have been able to share the day with like-minded people and that he felt he was accepting the WAF award on behalf of everyone."