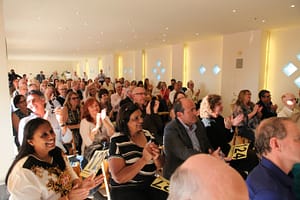 Prem Rawat, founder of The Prem Rawat Foundation (TPRF), offered several pieces of his photographic artwork for an auction to benefit the key programs of the Foundation. The auction took place on October 26 at the Rawat home in the Los Angeles area, with participants from several countries attending either in person or virtually.
Robert Zabrecky, a professional auctioneer from the Los Angeles area, spurred on the bidding with a combination of levity and playful prodding. As the bidding came to an end, over $332,000 had been raised from Prem Rawat's artwork for the Foundation.
But the fundraising was not yet over. One person, who had not managed a winning bid, offered a $25,000 donation with the suggestion that others might want to match it. Several did. Then more came in at $15,000, $10,000, $5,000, $1,000 and $500 until the total amount raised from the artwork and matching donations had reached over $560,000.
The money will be used primarily to expand TPRF's two signature programs: the Food for People (FFP) program and the Peace Education
(PEP) program. The FFP program opened its first kitchen to provide a hot nutritious meal each day to children and ailing adults in seven villages in the tribal area of Bantoli, in Jharkhand, India in 2006. Since then, two other facilities have opened, one in Nepal (2009) and one in Ghana (2012). In each community, school attendance and achievement is up, community health has improved and changes in the local economy are evident.
The Peace Education Program, which was formalized in 2012, was developed to help participants discover their own inner resources—innate tools for living such as inner strength, choice, and hope—and the possibility of personal peace. The success of the program has brought it to six continents where it has been presented in a variety of settings including universities and adult education centers, veterans groups, community centers, hospitals, rehab centers and correctional facilities.