Soraia Muner, a mother of two, volunteers as a facilitator for the Peace Education Program (PEP) in Curitiba, Brazil. In this blog, she writes about facilitating the program for homeless people.
I live in the city of Curitiba, the capital of Paraná, a state in the southern region of Brazil. Through a friend, I met Roberto Mistrorigo Barbosa, a distinguished member of the Parliamentary Council of the Culture of Peace in Paraná known as ConPaz.
Roberto introduced me to Father Alexandre Magno Cordeiro da Silva of the Parish of Lord Jesus dos Perdões, which sponsors various social projects. In October 2016, we started the first PEP at the parish for a group of people who live on the street. Kindly, Father Alexandre provided the parish hall and all of the equipment for the PEP workshops. We will soon hold the third series of PEP workshops there, following the Monday afternoon coffee served by the parish for up to 70 homeless people.
Curitiba is a cold city. Some people think Brazil is always warm and sunny, but in the south, temperatures can drop to less than 10º Fahrenheit — too cold for the homeless to live on the streets. There are shelters where they can shower and sleep, but often they don't want to stay in the shelters.
I learned that many of the homeless do not have drug or alcohol problems. Several have lost their families and homes through tragic circumstances that left them with no place to go. Others are depressed. Most of them have no work and choose to live alone on the streets.
At first, I was reluctant to present PEP to the homeless because of my fears and misconceptions about who they were. I have been facilitating the course for three years now and have come to realize they are just like me. I relate to them as one human being to another.
The participants are private. There are times during the workshops when they are invited to express their understanding of what Prem Rawat says in the videos. They don't usually speak about themselves. I have seen some of them arrive angry or depressed, and leave smiling.
Participants are not usually comfortable with writing their comments, but one said, "I have degrees in psychology and nursing. I like the PEP and learned a lot about the breath and its importance."
Some of them like the Peace Education Program because it is not linked to any religion. Some have attended the course several times. "I liked seeing how important it is to go inside. I started to think more about myself," another participant wrote. "I've recommended the PEP to other homeless people because it gives wisdom and another vision."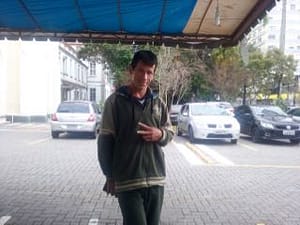 Fernando Pereira dos Santos